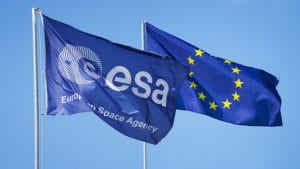 Berlin, 23 April 2021. – At its fourth meeting on 21 April 2021, the preparatory group for the European Space Traffic Management (STM) Conference set 7 July 2021 as the date for this event in a virtual format.
"With the progress we made at the hearing in March and the mapping we conducted at our preparatory group meeting this week, we are well prepared for an early July date", said Kai-Uwe Schrogl from the German Ministry for Economic Affairs and Energy, which is organising the preparation of the conference.
On 7 July 2021, representatives of EU and ESA member states will meet with EU institutions and the ESA executive to develop a common understanding of the importance of STM, the state-of-play and the technological and regulatory needs, as well as to identify the actors in STM, contributing to the STM position-making in Europe.
The European STM Conference is embedded in a broader roadmap for STM for Europe, which is jointly prepared by the EU Council Trio (Germany, Portugal, Slovenia and France) and the ESA Council Presidencies (France and Portugal), which is designed up to the second half of 2022, as Tanja Permozer, representative of the incoming Slovenian Presidency of the EU Council, informed.