by Adele Fox, Head of Marketing, Evona
"I'll judge my company wholly on the way they have treated me during COVID"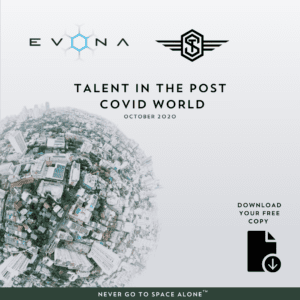 The old adage goes that you'll discover your true friends in a moment of crisis and for many of us, COVID has presented the largest global upheaval we've ever had to face. The way organisations  have acted at this time has not only been vital to our financial well-being, but also our emotional state –  but how has the Space Sector faired and how has the workforce been impacted?
EVONA, alongside Space Talent, conducted in-depth qualitative research amongst c-level executives and hiring managers to understand what the Post-COVID World will look like for the space sector and talent that works within. Space recruitment specialists EVONA have worked alongside a variety of space organisations through the COVID pandemic and every one of them have been forced to think and act in a new way. The previous quote, taken directly from a space sector employee demonstrates there's a lot at stake if employers get this wrong.
A brief look at the damage to the sector
Initial research conducted into the state of the ecosystem in the first half of 2020 showed a slowing of recruitment as a result of waning investment and insecurity across the board. Whilst data from the research shows there is definite uncertainty regarding the possibility of economic recession, sales cycles are showing improvement with signs of K-shaped recovery and hiring practices returning to normal.
Trepidation remains with 22% of companies still cautious to hire, but as a whole the landscape looks more positive, with some notable breakout organisations bucking downward trend. Geospatial intelligence plays a pivotal role in managing the pandemic and modelling future health risks through GeoAI. Unsurprisingly we've seen Geospatial Intelligence organisations flourish, reporting a significant increase in forecasted revenue targets as they attract new levels of investment leading to an increase in hiring and company valuation.
Even for these organisations though, the workforce has changed forever. Times of upheaval are often times of radical change and one thing is for certain: we've been shown a better way to work in an ultimate, en masse experiment conducted at dizzying speed.
What comes next?
We can't look back to the way the world was before the global pandemic and it's naïve to think that the workforce won't demand greater flexibility over the way they work going forward. We've been shown innovative ways to hire, communicate and breed company culture and these are valuable lessons we need to consider as we move towards a post-COVID world.
Initial practical considerations for companies, such as sourcing additional hardware and facilitating social distancing measures, seem to have given way to concerns over the welfare of their employees and the effect the measures have had on the company culture. As distancing measures continue, companies that have suffered least are those that have made strategic changes to business models to help focus their teams and replace outdated business practices.
Individuals as well as organisations have been shown the benefits of applied flexibility in working remotely. Many of the more forward-thinking companies have already modified their business practices to facilitate working from home where possible. 16% of space companies surveyed said they are hiring more remote roles and increased their geographic search for new recruits in-part thanks to their new-found ability to work remotely.
Others have also seen the cost savings and success of hiring virtually and despite many preferring to onboard members in-person, have been happy to onboard and maintain communications through video conferencing.
Whilst challenges remain with this remote approach to work, with virtual fatigue and the difficulties of maintaining communication at the fore, many innovative solutions have been utilised. Keeping the company culture alive without the knowledge transfer benefits of a quick catch-up at the water cooler initially increased the frequency of formal communications as one-to-one scheduled meeting were the go-to solution. However, we're now seeing companies expand the digital channels they're using, utilising collaboration team tools and streamlining company-wide communications through intranets or one-to-many channels. CEOs are uploading messages through YouTube to be consumed on-demand, we're seeing internal podcasts on hot topics, company intranets set up, group exercise classes,  'virtual offices' running so employees can feel connected and even the odd TikTok message. We've got over the practical issues of sourcing enough Personal Protective Equipment (PPE), hardware or hand sanitizer to keep our employees physically safe, now we're wondering how we keep them happy, healthy and connected.
It's more crucial than ever before to address how to maintain company culture to keep the workforce together and informed. This comes down to knowing your audience, refining your mission and delivering your messages through the correct channels. The companies that are addressing this now or had agile business practices in the first place to adopt this approach quickly, are the ones with happier employees and the future advantage.
You can download a FREE copy of EVONA and Space Talent's – Talent in a Post COVID World research here: https://www.evona.com/articles/talent-in-the-post-covid-world