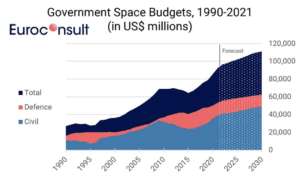 Edinburgh / Paris / Washington D.C. / Montreal / Yokohama / Sydney / Toulouse, 6 January 2022. – Space consulting and market intelligence firm Euroconsult has released its "Government Space Programs" report for 2021. The highlight of this year's findings is an accelerated volume of governmental investment in the space sector. This is due to ambitious space exploration programmes and the militarization of space.
Despite the COVID-19 pandemic, the space sector has received a record government funding of over US $92B. This means an 8% increase compared to last year. Civilian space budgets continue to receive more funding than defense space programs, totaling US $53B compared to US $39B in 2021.
However, investments in defense space assets and technologies are increasing due to geopolitical tensions and increasing rivalry between space powers. The value of space as the ultimate high ground also plays a role in its militarization.
"Government Space Programs" contains 89 country profiles in detail. These include analysis on policy and strategic objectives, space expenditures, civil-, defense-, and security space programs among others. It also features a forecast extended to 2030.