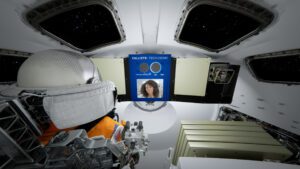 Edinburgh / Denver, 6 January 2022. – Lockheed Martin, Amazon and Cisco announced they have teamed up to integrate Callisto, a unique human-machine interface technology into NASA's Orion spacecraft on the Artemis I uncrewed mission around the Moon. They will demonstrate how astronauts could benefit from far-field voice technology, AI and video calls during deep space missions.
Callisto uses Amazon Alexa and Cisco's Webex to test deep space voice, video and whiteboard communications. The designer and builder of the Orion spacecraft, Lockheed Martin, is leading the development and integration of the payload.
The technology got its name after the favorite companion of the Greek goddess Artemis, Callisto. The payload comprises a custom hardware and software developed by Lockheed Martin, Amazon and Cisco. Alexa will work without internet connection, while Webex and NASA's Deep Space Network will allow it to run on a tablet.
As Artemis I is an uncrewed mission, NASA and Callisto partners built a virtual crew experience allowing operators to interact with Callisto. The remote interactions will demonstrate how the innovative technologies can help astronauts improve efficiency and situational awareness. Callisto will provide flight status data and telemetry, and will also be able to control connected devices onboard Orion. 
Artemis I is currently scheduled to launch in early 2022 for a multi-week journey around the Moon and back.