Thuraya, leader in mobile satellite services based in the UAE, announced a few weeks ago the order of the new Thuraya 4-NGS satellite. SpaceWatch.Global's Editor-in-Chief Markus Payer had the opportunity to talk to Thuraya's CEO Ali Al Hashemi.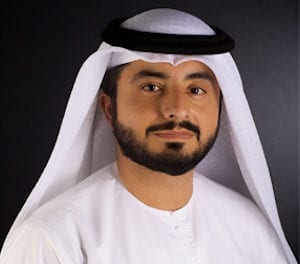 Markus Payer: When you ordered your next big satellite, Thuraya 4-NGS, you were talking about a complete overhaul of your business and a fundamental transformation. Could you explain what this transformation is about?
Ali Al Hashemi: When Yahsat acquired Thuraya, and even before, the vision was to integrate fixed and mobile satellite services and strengthen our position as a leading SATCOM provider. We are upgrading our space and ground assets and focusing on the development of a new rich portfolio of products and solutions. The aim is to create a unique proposition combining C-, Ku-, Ka-, and L-band solutions for land, maritime and aero platforms to consumers, governments and enterprises. The plan for the future is to build on Thuraya's brand in Mobile Satellite Services (MSS) and strengthen it by focusing on priority segments including Government, Internet of Things (IoT), Machine-to-Machine (M2M), maritime and aeronautical. And all this while maintaining our leadership in the voice market and bolstering it. Thuraya 4-NGS is the linchpin of this entire transformation. It gives us an enormous flexibility to accommodate evolving market dynamics and customer requirements and execute on our fragmented strategy.
What does 'fragmented' mean?
When we say 'fragmented', we mean 'laser-focused on our market potential'. We want to focus on the regions and market niches where we have strengths or see potential and smartly interconnect them. A great example is telemedicine in Egypt where a partner built an impressive COVID application. Our approach – within our strategic matrix – is that we take this application, certify it and share it across our markets, as a best-practice example. And then, it will translate, let's say, into Somalia and be implemented there, which means for us not simply more of our capacity but commercializing the entire package, chipsets, handsets, applications, and so on. These strategic transfers create new business. And they create – very importantly – customer stickiness.
This looks like a clear regional focus. Is globalization not an option for you?
We are keeping an eye on globalization, to have global coverage in the future. Especially government customers need global accessibility, no doubt. But our foundation is and remains a resilient local and regional business, where a customer in a specific niche like in Africa or Asia, in telemedicine or fishing, needs a specific application which could possibly be transferred to other markets within in our reach. And we want to extend that reach.
Thuraya and Yahsat, b2b and b2c, government and commercial – it seems you are taking a sophisticated two-leg approach each time. What is the underlying and unifying element and where are the synergies?
There are lot of synergies between fix and mobile and between government and commercial business. First the synergy between Mobile Satellite Services (MSS) and Fixed Satellite Services (FSS). Imagine an airplane. You use the L-band for resilient critical services like telemetry and command. And then you use the Ka-band for the streaming of high-throughput data, videos. There is a very good synergy between the two applications. Or let's take a mobile office terminal for government use. It will have all the fancy things that FSS offers but you will also need a back-up for really distressed situations. The same on a ship. The tracking devices that we are building for governments have to be highly secure and resilient, but for commercial use, price and scalability are more important, so we will build a lighter version and leverage synergies between government and commercial solutions. There are synergies everywhere, across our strategic product and market matrix.
How do you split your investment and R&D between space and ground segment, or in other words, how important is it for you to control the application side and go down to developing actual devices?
When we invest, we invest in product development because our strategy and business plan are built around products. A high percentage of our investment goes to the ground platform and product development. A satellite's useful life is at least 15 years and we chose to make it flexible to adapt to different technologies, thus it is best that we control the intelligence and technology evolvement through investment in the ground. This strategy allows us to have a continuous innovation cycle and not be stuck with a single technology platform for 15 years. We are moving from service focus to solution focus because only that can create a strong value proposition and the customer stickiness we want.
Does that mean that your brand architecture is also more focused on products than on Thuraya and Yahsat as umbrella brands?
Yes. We can look at three different cases to explain this. First, let's say there is a customer who wants a maritime solution in Asia, a simple tracking and voice service, and we are going to install it. And then, second, there is a government agency in Egypt for example who wants a telemedicine application, and we are going to develop and tailor it, based on year-long experience in other countries. And third, a customer comes and says, I need one megahertz dedicated capacity for my services, I need a hub, with this range of applications and security clearances. The difference between these three cases is that you can have the first product from the shelf and apply it, and that has a product name. The second one is that you have a government or network installation and you tailor it. The third one is a totally integrated solution that you do not have on the product shelf and that you cannot just transfer and adapt but you have to design and build it from scratch.
Let's talk about financing. When you ordered Thuraya 4-NGS, you said that you had an investment program of half a billion dollars underway. Can you say where you are investing now and in the next step and whether a next tranche of another 500 million dollars will be required?
We secured a 500 million dollars program, focusing on space, ground and products. And it is all intertwined, as I explained to you. Regarding space, our Thuraya 4-NGS order was designed to give us the highest possible flexibility and agility in the space segment. This satellite is not only relevant for data-intensive connectivity but also to support multiple platforms to connect devices and enable applications in transportation, logistics, energy, maritime, environment and defense. On the ground, we are working, for example, with Ericsson to upgrade our core network to 4G and 5G. And on the third level, the product layer, we are building more than ten new solutions, like a digital radio tracking device and advanced broadband terminals. And all is inspired by our quest to invest in new areas. We are gathering data about new markets and new applications constantly. And as part of our regional outreach, we are building an expanded plan for our business in Asia Pacific region. Overall, we are foreseeing, in the coming years, to increase the overall investment envelope to 1 billion dollars, the detailed split is unknown yet and, frankly, we do not need it now. For the time being, we are secured.
What is your role in supporting and investing in new space startups, especially in LEO?
We are pioneering and looking at it, it's possible. We are hungry to find the next big thing. We are a tech company and have an open mind about new ideas and innovation. The ongoing innovation in the LEO is very interesting. Personally, I keep an eye open here for the next big thing when it comes to ground segment and applications. The ground segment is not catching up with satellites, really. The next big deal will be to figure out how to build a cheap device that can receive big data. This is going to be really disruptive to the entire industry. Unfortunately, we haven't seen that yet.
Where is the complexity?
I honestly think that the satellite is simple. The complexity is in the in the ground and product segment and I believe this is where the next investment should be. If somebody figures out how to make innovative ground segment applications communicating to a LEO constellation, I'll be the first one to encourage this person. But personally, I think that the LEO uncertainty is still very high.
Are you playing a role in the very ambitious long-term projects of the UAE, like going to Mars?
Not so much, actually. We are proud of the UAE's ambition and inspiration in space and what our country has achieved since. We are celebrating the 20th birthday of Thuraya this year, and I remember, when I was in my last year of high school, my brother holding the first satellite phone (for some reason, he had one). I think it is safe to say that, in space, the UAE has come a long way, has achieved major milestones and has a brilliant future.
There is an important event coming up in the UAE in 2021, which is the world EXPO 2020. Are you taking part in this project and how will you engage?
We are very proud to have the EXPO in the UAE next year. It shows how the nation has developed, and I am proud to be a citizen of this country and be part of its development. We will help EXPO to supply the applications that are needed, for emergency, for example. And we will be part of showcasing the UAE's capabilities in the country's pavilion, which has a splendid concept.
Where will you be in five years?
We are in an important transformation phase, and Thuraya, in five years, will not be anymore what it is today. We have a range of projects with a lot of potential, and you will see more partnerships in the future. We are taking this very seriously, and we are succeeding. The UAE is looking at an impressive track record in building up infrastructure, financial services and transportation. And now we are entering the next wave, in terms of knowledge, research, development and creativity, the next generation industrialization. We are part of it and we are active and would like to contribute to this development.
SpaceWatch.Global thanks Ali Al Hashemi, CEO of Thuraya for the interview.