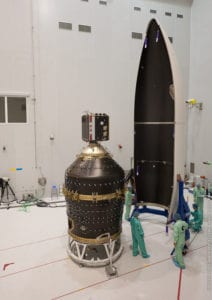 Paris, 27 November 2020. – The European Space Agency (ESA) contracted a consortium led by the Swiss start-up ClearSpace for the world's first space debris removal mission, ESA said. The contract has a value of €86 million.
ClearSpace will start ClearSpace-1, the first mission to remove space debris, in 2025, ESA said.
The aim of the mission is to pick up an upper Vega stage, the so-called Vespa, which has been left in space at an altitude of 660 to 800 kilometers with the second Vega launch in 2013. The object, which ClearSpace-1 will seize, has the size of a small satellite and will burn up with ClearSpace-1 when both re-enter the atmoshere.
After nearly 60 years of space exploration, more than 5,550 launches have left around 42,000 known objects in space, ESA said. With around 100 launches per year now, this number will continuously rise.