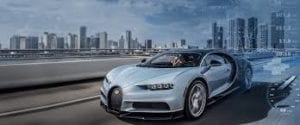 Paris, 6 September 2020. – The international satellite and space research and consulting company Northern Sky Research (NSR) sees the international broadband connected car market growing to over $1bn by the end of this decade, NSR said in a recently published summary of the 8th edition of its Land Mobile via Satellite report.
The report "found the broadband Connected Car market (excluding connected buses and trains) will reach over $1 billion in 2029, up from a negligible amount today", NSR said. "Revenues generated are mostly from first responder type vehicles – fire services, ambulances and police. Even in places like Japan, where there is significant terrestrial connectivity, emergency responders are actively keen to install satellite connectivity to increase reliability and reach. Luxury vehicles will also be expected to incorporate satellite connectivity in some models after 2025/2026, once vehicle designs incorporating a flat panel antenna are locked in in the near future."
However, even in 2029, NSR expects a penetration rate "well below 1%". "Substantial new revenues will be generated from this relative niche; however, NSR is not expecting further penetration of the consumer market given the number of challenges more broadly."
NSR identifies the following key challenges. First, for consumers, "there isn't yet a key must-have application that demands connectivity 100% of the time" and, as a consequence, "there is not a real pressing problem that requires solving through satellite." Second, "(s)afety and emergency calling does not require a broadband connection". And third, "(g)etting ARPUs down to terrestrial network pricing (or slightly above) will be challenging – as it risks cannibalizing pricing in far more lucrative markets".
NSR thus concludes: "Given the challenges of the broadband Connected Car market, satellite companies trying to target this market will need to be crystal clear about their objectives. Before autonomous car sales become widespread, targeting only the highest value customers is a must (the rest will use terrestrial only networks, if any), and be complete with an end-to-end service platform. Attempting to target the broad consumer market will only waste years of effort, with a platform with mismatched consumer technology rather than focused enterprise and first responder features, and a go-to-market strategy to match."