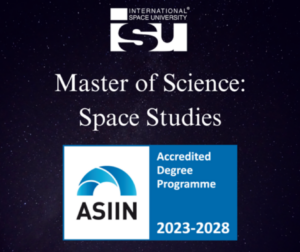 London, 14 April 2023.- The International Space University (ISU), based in Strasbourg, is introducing a new accredited Master of Science (MSc) in Space Studies. The MSc Space Studies is designed to prepare students to become interdisciplinary space professionals, ready to meet the needs of the rapidly developing space sector. 
Over the duration of 18 months, set out over three semesters, graduates will be provided with knowledge at the interface of all space disciplines. As a result of the increasing impact of the NewSpace sector, there will be an emphasis given to entrepreneurial aspects, covering the creation and financing of space start-ups as well as knowledge of project management techniques. 
The curriculum includes the choice of three tracks in the second semester. These tracks are: Space Engineering and Applications, Space Science and Exploration, or Space Policy and Entrepreneurship. 
ISU's newly appointed Dead, Dr. Su Yin Tan says "ISU is a unique organisation counting 160 faculty members plus a myriad of experts, preparing the students for the game-changing space endeavours." 
ISU says students will benefit from its 36-year tradition of education, the strength of ISU's global network of 5400 alumni, and access to top recruiters including amongst others ESA, NASA, Airbus Defence and Space, Blue Origin, PriceWaterHouse Cooper, SES, JAXA, Euroconsult, CASC, ispace, ISRO, NSR, Space X, Planet, Spire. 
The fees for the accredited MSc in Space Studies, covering all tuition, are 32,000 euros. The International Space University is provided funding from space agencies, government agencies and industry to help support its educational programs. This aid is available to applicants on the basis of their academic and professional merit and covers a portion of their tuition fees. ISU is approved for US Federal student loans from the US Department of Education. 
Student applications are submitted by 30 June 2023, online via www.isunet.edu/apply-online/. The program, which is set to commence on 04 September 2023 will be delivered at ISU's Central Campus located in the Innovation Park in Strasbourg, France.