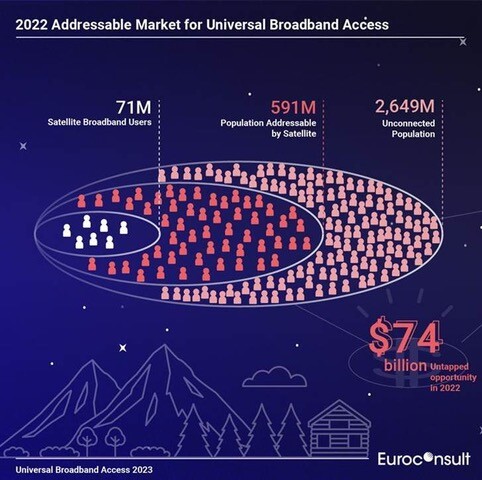 Ibadan, 14 April 2023. – Euroconsult reports that internet usage has doubled in the past eight years, with an estimated 67% of the world population using broadband services in 2022. From access to public services such as remote health advice to remote working and learning and the ability to communicate opinions and share information, universal connectivity has become an increasing priority for governments across the globe.
However, while international organizations encourage infrastructure development plans for broadband use and accessibility in unserved areas, some 2.6 billion people remain unconnected. In its latest report on Universal Broadband Access (UBA), Euroconsult mentions that the least-developed and landlocked developing countries are particularly lagging, with just over one-third of their populations connected to the internet. Asia Pacific and Sub-Saharan Africa alone hold 85% of the world's unconnected people, with a quarter located in India.
"With access to broadband services increasingly recognized by governments as a driver of economic growth, this represents a significant untapped opportunity for service providers, estimated at $74 billion in 2022,'' said Dimitri Buchs, Managing Consultant at Euroconsult and the Editor in Chief of their Universal Broadband Access report.
Furthermore, the addressable market for satellite solutions reached 591 million people in 2022, with 71 million people connected to satellite broadband services at the end of the year. Euroconsult expects the number to more than double in 2031 to reach over 150 million users. Consumer broadband is currently the dominant satellite option in advanced economies. At the same time, cellular backhaul is the most popular option in emerging markets, mainly due to the lower cost of services for end-users.
For more information about the report, you can access it here.