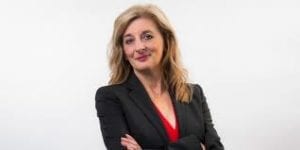 London/Tokyo, 2 September, 2020. – Astroscale Ltd., the UK subsidiary of Astroscale Holdings Inc., Japan, the market-leader in securing long-term orbital sustainability, announced the strengthening of its management team with the appointment of Sharon Parker-Lines as UK Operations Director effective 1 September 2020.
Sharon joins Astroscale with more than 20 years of experience in operations, specialising in human resources, finance, production, commercial, and strategic planning. Most recently, Sharon was Centre Director for the Oxford Centre for Innovation, where she was responsible for supporting SMEs and start-ups to achieve sustainable growth. Prior to that, she was Group Chief Operating Officer of a global publishing company for nine years.
Sharon will work closely with John Auburn, Chief Commercial Officer and Astroscale UK Managing Director, to build a world-class multi-skilled engineering and operations team in the UK and ensure the commercial success of the company. She will manage and oversee the support functions of the Astroscale UK business, including finance, human resources, IT,  administration and procurement, whilst managing the resource requirements across the wider engineering team.
"We are very pleased to welcome Sharon to the team. She brings great experience as well as drive and passion for our mission," said John. "Her commercial and people skills will help turn our engineering expertise into a vibrant and successful business."
On her appointment, Sharon said, "Astroscale is an exciting and agile company that's working on ground-breaking missions to address orbital sustainability, including the growing concern of space debris. To join this talented team is a dream come true for me."
Since its establishment in 2017, Astroscale UK has grown to over 30 personnel with plans to grow to 80 by 2022. The UK unit includes the ground segment and operations engineering teams, that are leading the development of the In-Orbit Servicing Control Centre – National Facility. This state-of-the-art facility will form the basis for operating missions to clean up space debris and conduct other in-orbit servicing operations, providing Astroscale with a world-leading operational capability. The team is currently in the process of testing the operational procedures for the upcoming End-of-Life Services by Astroscale-demonstration (ELSA-d) mission.