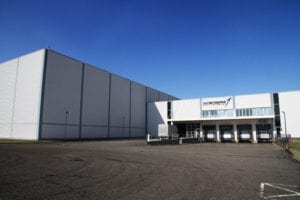 European launch vehicle manufacturer Isar Aerospace announced its expansion into new production facilities in Germany's space valley in Ottobrunn/Taufkirchen near Munich. The new 4,500 sqm. space will be used for manufacturing and assembly of fully integrated orbital launch vehicles as well as system testing.
Isar Aerospace is driving technological innovation in the space launch sector with its low-cost Spectrum rocket. Its additively manufactured, high-pressure rocket engines are running on environmentally friendly propellants that achieve significantly higher performance and lower emissions compared to conventional propulsion systems, paving the way for a new era in space access.
The largely automated produced products that will be integrated at the new facilities are designed for scalability to meet the growing demand for satellite constellation deployment. "With our new premises, we are increasing the space available to our company for engineering, production and testing to over 15,000 square metres", says Daniel Metzler, CEO of Isar Aerospace. "In-house production is an important milestone on the way to our launch vehicle's maiden flight within the next two years".
Isar Aerospace recently closed US$17M in Series A funding to build its space platform and has since doubled its team and secured a long-term lease agreement at Swedish rocket launch facility Esrange for rocket engine testing.
This aaouncement was made on 14 April 2020.