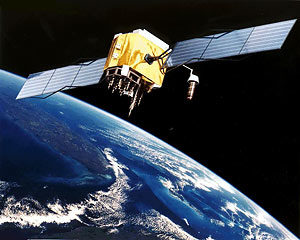 Belarus and Russia have signed an agreement to jointly build a constellation of eight high-resolution Earth observation satellites, according to Belarusian and Russian news media sources.
Belarusian satellite engineers have already completed a preliminary design and the new satellite series will feature a high-resolution camera capable of capturing images of 35 centimeters resolution. This compares to the resolution of two meters that is the current capability of the BKA-1 Earth observation satellite operated by Belarus.
The new Belarusian-Russian Earth observation satellite constellation is supposed to be a follow-on design to the BKA-1 satellite and will be equipped with optics from the Belarusian company OAO Peleng, and integrated circuits from the Belarusian Integral Plant.
It is expected that the first satellite of the new constellation will be called BKA-2.
Sergei Zolotoi, the Belarusian chief designer of the Earth observation satellite constellation said of the optical and integrated circuit components that, "Such devices are approved by the European Space Agency. It plans to release two devices in 2023."
"There are plans to defend the conceptual design of the second satellite. After it the date for its launch will be determined. The technical work has been completed. Everything, however, has come to a halt due to the global situation that we can see today. We hope the situation will change in the near future," Zolotoi added.
Belarusian officials were unable to provide details of the constellation's budget or provide a launch date for the first of the planned eight satellites but analysts speculate that a launch in 2023 should be expected.
"The conceptual design has been completed. Soon we will move on to the working design. The second satellite will guarantee us a competitive presence on the world market of space technologies for Earth remote sensing," Piotr Vityaz, chief of staff of the National Academy of Sciences of Belarus (NASB), said.
Referencing the BKA-1 Earth observation satellite currently in orbit, and launched in 2012, Zolotoi said, "We hope that the satellite will serve us for a long time."