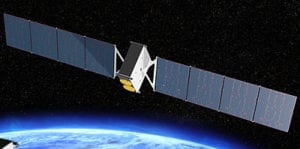 Gilat Satellite Networks Ltd., a worldwide leader in satellite networking technology, solutions and services, announced on 18 November 2019 that it has reached a major landmark with the selection by SES for development and deployment of a global multiple application very small aperture terminal (VSAT) platform for its O3b mPOWER Medium Earth Orbit (MEO) communications system. This multi-million-dollar contract establishes Gilat as a significant Non-Geostationary Orbit (NGSO) player through the technological innovation of its multi-orbit GEO/NGSO platform.
"We are honored to be partnering again with SES, this time for their next generation O3b mPOWER system," said Ron Levin, VP Mobility and Global Accounts at Gilat.  "Gilat was selected due to our innovative ground segment design that significantly reduces cost per bit, our ability to deliver a step function in modem performance and our engineering capabilities to further optimize the platform to efficiently support SES's O3b mPOWER communications system. We are proud to be at the forefront of ground networks for NGSO constellations together with SES, who paved the NGSO path with its O3b constellation and now continue to lead the pack with its O3b mPOWER network."
Gilat Satellite Networks Ltd. is a leading global provider of satellite-based broadband communications. With 30 years of experience, we design and manufacture cutting-edge ground segment equipment, and provide comprehensive solutions and end-to-end services, powered by our innovative technology. Delivering high value competitive solutions, our portfolio comprises of a cloud based VSAT network platform, high-speed modems, high performance on-the-move antennas and high efficiency, high power Solid State Amplifiers (SSPA) and Block Upconverters (BUC).