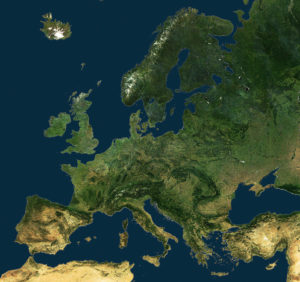 Centre national d'études spatiales (CNES) President Yves Le Gall was at the 3rd Space Tech Expo Europe in Bremen, Germany, where he took part in the plenary of heads of space agencies and the panel session on 'Space Trans-Atlantic', both focused chiefly on space exploration, particularly lunar exploration. Jean-Yves Le Gall also took advantage of this trip to meet representatives of French SMEs present at the event.
The renewed interest in exploring the Moon offers a fantastic opportunity to develop international cooperation. Lunar exploration opens up a path for respectful and peaceful interaction between space powers, for the benefit of all mankind, in the spirit of the UN space treaties. The United States of America's approach regarding the Lunar Orbital Platform-Gateway is also heading in this direction, as it is intended to be developed, serviced and utilized in collaboration with international partners. CNES is supportive of this initiative, consistent with its sustained efforts to develop and strengthen cooperation at global level. CNES is also partnering China on its Chang'e lunar exploration programme, for which the Chang'e 6 mission will be carrying the French DORN instrument proposed by the IRAP astrophysics and planetology research institute to study the transport of volatiles through the lunar regolith and in the lunar exosphere and lunar dust. Lastly, France and Germany envision developing a joint robotic mission to the Moon incorporating elements of artificial intelligence.
Jean-Yves Le Gall recalled the joint understanding between CNES and DLR within the framework of French-German space cooperation, which as well as supporting lunar exploration is sustaining Europe's contribution to the International Space Station (ISS). On 13 December, CNES and ANRT, the French research and technology association, are organizing a symposium in Paris on the theme of 'Sustainable human presence on the Moon: opportunities for the Europeans?' to mobilize non-space-economy stakeholders around Moon opportunities.
CNES's President also had the opportunity to visit the NewSpace Factory stand to meet representatives of French space SMEs and reiterate CNES's commitment to the key task of supporting French industry export sales.