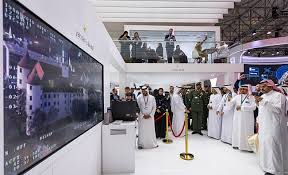 Thuraya, the mobile satellite services subsidiary of the UAE-based Al Yah Satellite Communications Company (Yahsat), in partnership with Airbus, a global leader in aeronautics, space and related services has successfully conducted live screenings of a demonstrative aerial surveillance mission taking place in Germany, from an airborne Airbus H145 helicopter equipped with a communication system developed by SCOTTY to the Dubai Airshow visitors, utilising Thuraya's L-band satellite network.
The live screening of the demonstrative surveillance mission is a testament to Thuraya's enhanced Aero mobility capabilities, designed to fulfil government customer requirements for secure mobile satellite communications across a variety of aerial platforms including helicopters, UAVs, Fixed and Rotary winged aircrafts. Supporting the demanding applications of ISR (Intelligence, Surveillance and Reconnaissance), Search and Rescue (SAR), Passenger and Cockpit communications throughout a vast satellite footprint, covering more than 160 countries across the Middle East, Asia, Europe, Africa and Australia regions.
Ali Al Hashemi, Chief Executive Officer of Thuraya commented, "We are excited about the growing ties with Airbus and are looking to further expand the scope of our collaboration to enhance our offering and unlock new opportunities with our government customers."
The Aero Mobility system brings a robust satellite communication solution to government missions, facilitating steady internet access, voice calls, text messaging, and real-time, high-speed data applications including video conferencing, tracking, sensor and data collection and transmission. With built-in video compression capabilities, handling HD streaming speeds of up to 384 kbps on a single channel.