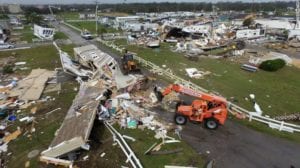 Amidst the aftermath and devastation of Hurricane Dorian, Globalstar and Pulse Technology Solutions have joined forces to extend satellite communication solutions to response organizations and local agencies in need.
Communication is critical in the days following any hurricane and Globalstar satellite solutions provide voice and data communications, as well as satellite-based messaging when traditional networks have been wiped out.
SPOT, LLC and Globalstar are headquartered in Louisiana, so the company and its employees understand first-hand what it takes to be prepared for major storms. "Not being able to communicate during and after a devastating natural disaster could have catastrophic impacts. When all other communications are down, or when cell coverage is spotty or non-existent, the Globalstar satellite network supports connectivity to the people and information that matter most," says Claudia Smith, Southeast U.S. and Caribbean Regional Sales Manager at Globalstar.
Pulse Technology Solutions is headquartered in Fort Myers, FL. with corporate offices in San Juan, Puerto Rico, St. Thomas, U.S.V.I. and operates throughout the Caribbean. "Pulse is proud to be partnered with Globalstar as a regional supplier in Florida and the Caribbean. Their satellite solutions work when you need them offering reliable communications after natural disasters when most other phone or cellular services fail. Their communication services are critical in performing proper post-disaster rescues and ongoing recovery efforts," said James Ritter, CEO at Pulse Technology Solutions.
SPOT X 2-WAY Satellite Messenger can send and receive messages with any cell phone number or email address from virtually anywhere in the world. It enables users to send an S.O.S. to 24/7 Search & Rescue, message back and forth about your emergency and receive confirmation when help is on the way. A built-in compass and programmable waypoints help you navigate.
Through a direct connection to the GEOS International Emergency Coordination Center, SPOT products have initiated more than 6,600 rescues around the globe within the last ten years. Now you can activate SPOT X and SPOT Gen3 satellite messengers as well as SPOT Trace satellite asset tracker on flexible service plans.