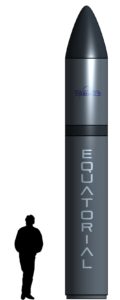 Singapore's rocket tech startup, Equatorial Space Industries has joined the ANSYS Startup Program which offers industry-leading simulation tools to eligible startups.
Access to ANSYS simulation tools will support ESI's efforts in becoming Southeast Asia's first commercial space launch startup. ESI plans to leverage ANSYS mechanical and fluid dynamics simulation capabilities to develop and optimize components for ESI's upcoming Suborbital Hybrid Ascent and Recovery Programme (SHARP) vehicles, as well as the orbital-class Volans microlauncher.
"We are pleased to welcome ESI to our Startup Program and to help them on their journey above the Karman line," said Paul Lethbridge, senior manager, ANSYS Startup Program. "ESI's engineers now have access to simulation technology enabling them to cost-effectively create and explore virtual prototypes of their SHARP vehicles and Volans microlauncher. ANSYS simulation tools will provide their engineers valuable insights into the design and performance trade-offs needed to successfully deliver their payloads into Low Earth Orbit within time-to-market and budget constraints."
ESI was started in 2017 in Singapore to deliver new-generation space technologies and propulsion systems to be used in a variety of rockets and spacecraft, including its small launch vehicles. ESI aims for its first orbital test flight by 2021.