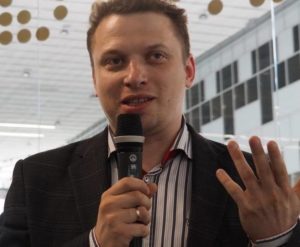 Andrey Potapov is an alumnus of the economic faculty of the Moscow State University and a former employee of Scanex. He was also director general of a pioneering Russian satellite manufacturer Sputnix. We asked him to explain how Skoltech is organized and what educational opportunities it has to offer.

Tell us about the structure of Skoltech.

There are two space-related administrative units at Skolkovo Foundation: the Cluster of Space Technologies and Telecommunications and the Skoltech Space Center. Skoltech is a research university with masters and postgraduate programs as well as its own research groups.

I work at the Space Center (also known as 'The Center of Cosmonautics and Robotics'), which is one of several centers that make up Skoltech, along with the photonics, quantum technology, and other centers that focus on cutting-edge and strategic fields of science.

The teaching staff at our center are professors leading their research groups. Some of them are in system engineering; there is also a microsatellite lab as well as the Intelligent Robotic Systems Laboratory. We have an assistant professor at our department specializing in space weather who recently won the EU's 2020 grant that opens space weather research opportunities in wide collaboration with the European colleagues.

There are currently around 35 master students, most of them young people, while our grad students can be pretty much any age. The Space Center is responsible for organizing numerous events at Skoltech. One of them is SpaceUp, a space unconference that brings together students from different nations with a passion for all things space.

Does the Space Center partner with other educational institutions?

We offer a course called 'Space Sector', where we invite outstanding speakers to do lectures. We invite international lecturers too. Some of them are invited to do a particular talk, while others are permanent residents in Russia.

Our closest partners are Moscow Institute of Physics and Technology (MIPT) and the National Research University Higher School of Economics (HSE). We also interact with the Bauman Moscow State Technical University (BMSTU).

We are also working on an umbrella program of smallsat experiments, including smallsat design, manufacturing, and launches as well as onboard science experiments. We are considering launching our smallsats from the International Space Station: the way the SiriusSat-1 and -2 smallsats were manually launched last August by cosmonauts Oleg Artemyev and Sergey Prokopyev during a spacewalk.

There is also an Earth remote sensing project under the aegis of the Massachusetts Institute of Technology (MIT). It will be a geospatial data cloud platform created by uniting disparate data sources. What we can get from it is, for example, a 4D model map of the Republic of Tatarstan. Skoltech collaborates on this project with the University of Innopolis (Tatarstan) and is responsible for the development of the machine learning algorithms. 
What are your current priorities?

The Space Center was originally conceived around the idea of system engineering, which informs our general ideology. But if it is not tied to concrete engineering projects, system engineering is just a theory, which motivates me to develop the Center's activities.

Early on, there could be no doubt that in terms of our smallsat potential we were clearly losing to collaborative university-industry projects in other countries. Basically, all our western rivals are university program spin-offs, albeit structured differently.

The guys who created Skybox are Stanford alumni, SSTL is a spin-off of the University of Surrey. Innovative Solutions In Space is a program of the Delft University of Technology (Netherlands). some companies are commercializing the research made by TU Berlin, etc.

Having a fundamental challenge with a lot of research involved is a great way to get scientific support. A good competitive position is the ability to create a value chain between universities and spin-offs. Universities should handle the selling of associated technologies, their licensing and implementation.

What is your vision of the future of private space in Russia?

What's in store for the Russian private space business? Difficult question. There is something going on, but not much progress has been made yet. All private space companies in Russia pivot around their founders' vision, which is reflected in their priorities.

Can we create a favorable environment for more private space companies to emerge in Russia as they do in the US? Can we make private space a mainstream phenomenon in this country? I think we need to change the national space policy first. Big scale investment (think Jeff Bezos of Blue Origin or Elon Musk of SpaceX) is the right way to do it. Unfortunately, we are yet to see it happen here.

What do you do besides Skoltech?

I'm part of the RANET workgroup, which is a national technological initiative. I'm also part of the group that is forming SpaceNet. These are more public activities that are aimed at developing private space initiatives in Russia.

I can't rule out the possibility of joining Sputnix again after Skoltech. But first I need to get the Space Center going by accumulating valuable cadre and innovative potential there.
Evgeniy Ryzhkov studied space programs for two years in Japan and worked as a technical translator from Japanese at various factories. He is currently an editor and reporter with the 'Novosti Kosmonavtiki' magazine.