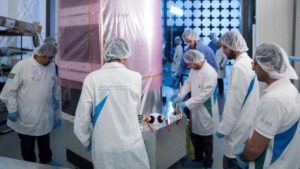 Saudi Arabia's Earth observation satellites, SaudiSat-5A and SaudiSat-5B, were successfully launched on board a Long March 2D launch vehicle on Friday, 7 December 2018, from the Jiuquan Satellite Launch Centre (JSLC) in Northwest China at 04:12 UTC.
Saudi Arabia's King Abdulaziz City for Science and Technology (KACST) developed and manufactured the two high-resolution Earth observation satellites with assistance from Belarus for the hyperspectral imagers on board both satellites that serve as a testbed for the advanced remote sensing method.
SaudiSat-5A and -5B are the second generation of Saudi-made Earth observation satellites, replacing SaudiSat-2 (launched in 2004) and SaudiSat-3 (launched in 2007) remote sensing satellites that were also manufactured by KACST.
The two SaudiSat-5 satellites were fully manufactured and tested to international standards in KACST laboratories by Saudi technicians and engineers with expertise in the satellite industry and development.
The SaudiSat-5 satellites will be used to provide high-resolution images of the planet's surface from low-Earth orbit, and will help with urban planning, monitoring movements and changes on the Earth's surface, and provide Saudi government agencies with services, in particular with high-resolution satellite imagery.
KACST has launched 13 satellites and is participating in the Chinese-led Chang'e-4 Lunar exploration mission, with KACST providing the advanced remote-sensing payload. KACST has also developed a satellite system for tracking and monitoring commercial ships, as part of a Maritime Domain Awareness programme capable of tracking up to 30,000 ships around the world.
The launch of the two SaudiSat-5 satellites is a part of the Kingdom's Vision 2030 economic reform initiative that aims to localise strategic technologies, maximise local content, and empower Saudi youth to gain knowledge of advanced technologies, to include the development and manufacture of satellites.