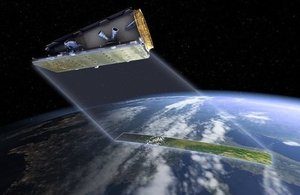 The UK's Defence Science and Technology Laboratory (DSTL) at Porton Down has issued a tender for the development of a synthetic aperture radar (SAR) satellite reconnaissance system that weighs less than 500 kilograms, with the aim of having an on-orbit demonstrator satellite by 2022 and the start of an operational constellation for the UK's Ministry of Defence by 2025, subject to funding, according to a report in Wired UK.
Dubbed Project Oberon by DSTL, the SAR satellite capability will take advantage of advances in the radar imaging technology and related geospatial information systems and data interpretation techniques that could feasibly allow it to be used by the British military for operational and even tactical purposes. To date, the UK military and national security establishment has had to rely on SAR imagery for strategic early warning provided to it by allies such as the United States, and commercial imagery provided by companies such as Airbus.
The advantages of SAR satellite imagery for the UK military are well known, as it provides all-weather and day-night overhead imagery capabilities for intelligence, surveillance, and reconnaissance (ISR), but Project Oberon aims to put the latest SAR imaging technology on a constellation of small satellites.
"With normal optical imaging you are constrained to imaging during the day time and when it is not cloudy," said Andrew Cawthorne, director of Earth observation at Surrey Satellite Technology Ltd. (SSTL), a pioneering British satellite manufacturer, to Wired UK. "The ability to take images in all weather and at the night is where you really get the benefit of Synthetic Aperture Radar because it basically means you can be guaranteed to get an image."
"People know the optical satellites all fly over in the daytime so if somebody is doing something that they don't want to be seen they can make sure they do it at night time," he added.
Project Oberon, named for the character in William Shakespeare's A Midsummer Night's Dream is a MoD tradition that names its military satellite programmes in the 1960's and 1970's after Shakespearean characters.
"In the 1960's and 70's government-funded research satellites were named after Shakespearian characters such as Arial, Prospero and Miranda," DSTL space technical fellow Darren Muff told Wired UK. "We wanted to recognise the old pioneers and carry on the tradition."
The DSTL tender calls for a feasibility study worth GBP750,000 to be carried out, with an additional GBP4 million for other options contingent upon further funding from the British government.
Project Oberon may have its technology and conceptual origins in the recently launched NovaSAR satellite operated by pioneering British satellite manufacturer Surrey Satellite Technology Ltd. (SSTL) and launched from India in September 2018.
"NovaSAR is the first all UK built SAR spacecraft," SSTL's Cawthorne told Wired UK. "It is the government's first foray into SAR imaging and now they are exploring if it should be taken further with other frequency bands and how might we [the UK] benefit from a constellation [of SAR satellites]."
NovaSAR is being used by UK authorities for maritime domain awareness (MDA) missions where it helps monitor suspicious shipping activity day and night regardless of the weather.
DSTL's Muff says that, if fully developed, Project Oberon could provide the UK with a suite of radio frequency (RF) sensing capabilities thanks to British strengths in signals processing and computing, allowing the UK to "leap-frog the capabilities of other nations whilst developing confidence in defence space capabilities."
The release of the tender for Project Oberon by DSTL comes just after British Prime Minister Theresa May announced the UK's withdrawal from the European Union's Galileo positioning, navigation, and timing (PNT) satellite system, a source of considerable political controversy and spurring Downing Street to authorise a GBP92 million feasibility study on whether Britain should develop and build its own space-based PNT system.
The timing of the Project Oberon announcement has inevitably cast the project within the divisive context of Brexit.
"This sort of investment is reminiscent of a time before UK space policy was lobotomised by Brexit, where you have key capability gaps being identified that may be useful on a sovereign basis," Dr. Bleddyn Bowen, a lecturer in space policy at the University of Leicester, told Wired UK.
As the UK looks to shape its post-Brexit role, a developed Project Oberon SAR constellation could prove to be a useful capability for British defence diplomacy, according to Paul Febvre, the Chief Technology Officer at the UK's Satellite Applications Catapult in Harwell, Oxfordshire. "The interesting aspect of this Oberon contract is it moves the needle with regard to something that provides a national capability for global observability…There is a need to enhance our national capability for negotiation," he told Wired UK.