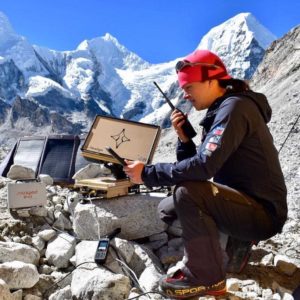 Earlier this month, the Royal Air Force (RAF) took part in the gruelling Himalayan Venture 18 (HV18), the principal expedition of RAF100 –the celebration of the centenary of the formation of the Royal Air Force, the first independent Air Force in the world. Uniting 75 members of the wider RAF family, the pioneering expedition took teams to the Rolwaling and Khumbu regions of the Nepalese Himalayan range.
Paradigm Communications' high-speed SWARM satellite terminal provided invaluable support for the RAF during HV18. The lightweight, powerful terminal, easily carried in a backpack, helped to keep the world up-to-date with the progress of the Alpine team, climbing in a remote part of The Himalayas, frequently at altitudes of over 5000m. The climbers posted regular media updates of photos and video, kept in touch with the other teams and stayed safe thanks to the global connectivity of Inmarsat's Global Xpress network and the quick set-up and ease-of-use of the SWARM.
The SWARM is an ultra portable, rugged satcom system which can be easily operated by a non-skilled user. Assembly typically takes around 90 seconds with high-speed, broadband connectivity achievable in less than 240 seconds. Acquiring the satellite is intuitive, quick and tool-free using the integrated audio and visual pointing aids onboard the PIM® (Paradigm Interface Module) terminal controller.
Speaking directly from the Himalayas, RAF Squadron Leader Gordon Henderson of the Alpine Team described the SWARM's data speeds as "like having the equivalent of a home wi-fi system".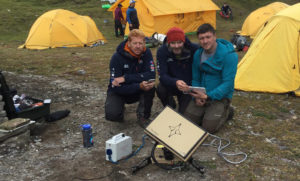 Paradigm's MD Ulf Sandberg added: "It's been fantastic to follow the team's progress with the superb photos and videos that satcom, via the SWARM and Global Xpress, has allowed them to share with the world".
The SWARM was selected for the expedition following its success in providing seamless connectivity at the RAF100 Flypast over Buckingham Palace back in July 2018. This high-profile RAF100 Centenary event involved 100 aircraft from the past 100 years flying over the skies of London. The SWARM provided the Air Command Media team with constant communications in the face of high demand from the public on the terrestrial 4G network.
Say hi to Gordon from the RAF 100 Himalayan Venture 18 Alpine team. The safety of the team, media updates for you guys to follow us and the welfare for our loved ones could have only been made possible by Inmarsat and @paradigm SecureCloud+ #satcom #satellite #swarm Trade Group 4 #rafengineering #STEM

Gepostet von RAF 100 Himalayan Venture 18 am Samstag, 15. September 2018