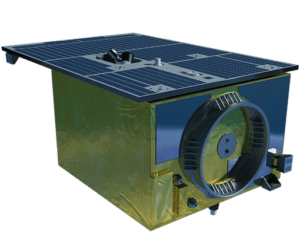 Edinburgh, 4 April 2022. – SpaceX launched its Transporter-4 mission carrying 40 spacecraft, including CubeSats, microsats, picosats, non-deploying hosted payloads, and an orbital transfer vehicle to deploy spacecraft at a later time. The rideshare mission was the rocket booster's seventh successful mission.
One reason for the smaller number of spacecraft carried on this mission was the size of the EnMAP satellite. The OHB-built EnMAP weighed nearly 1,000 kg. EnMAP stands for Environmental Mapping and Analysis Program and it is Germany's contribution to climate protection. 
The hyperspectral satellite mission aims to monitor and characterize Earth's environment, measure and model key dynamic processes of the ecosystems. It is capable of extracting geochemical, biochemical and biophysical parameters that provide information on various terrestrial and aquatic ecosystems. EnMAP will image Earth from 650 km through 242 spectral channels.
The remaining payloads of the Transporter-4 mission included 12 of Swarm's SpaceBEE satellites, and Satellogic's five high-resolution imaging satellites. HawkEye 360 flew three satellites to measure radio-frequency signals,
Unseenlabs its BRO-7 satellite and Pixxel also launched its Shakuntala satellite with the mission.
Transporter-4 was originally going to carry a Sherpa tug from Spaceflight as well. That spacecraft was later removed from the mission because of environmental issues.