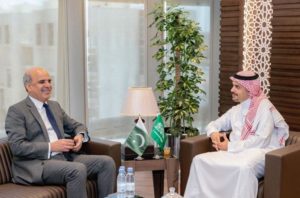 Pakistan's Ambassador to the Kingdom of Saudi Arabia, Khan Hasham Bin Saddique, met with Haitham A. Al-Ohali, the Saudi Arabian vice minister of communications and information technology, at his office in Riyadh on 24 July 2018, according to a report in the Saudi Gazette.
The meeting included discussion on the extensive relations between Pakistan and Saudi Arabia, and in particular focused on possible bilateral cooperation in the fields of communication and information technology.
The Pakistani ambassador highlighted the potential for cooperation in a variety of IT areas as Pakistan has been making rapid progress under the aegis of the China-Pakistan Economic Corridor (CPEC). For its part, Saudi Arabia is implementing its Vision 2030 economic and social reforms that include an emphasis on digitization and Artificial Intelligence (AI).
Haitham Al Ohali agreed with the Pakisatani ambassador's assessment on the state of IT and AI developments in both countries, but stressed the need for the two countries to identify and work closely on particular avenues of cooperation in the field of IT, AI, and digitization.
Al Ohali also talked about the various information communication technologies (ICT) initiatives under way in Saudi Arabia. The two officials also discussed cooperation on these issues in multilateral forums.