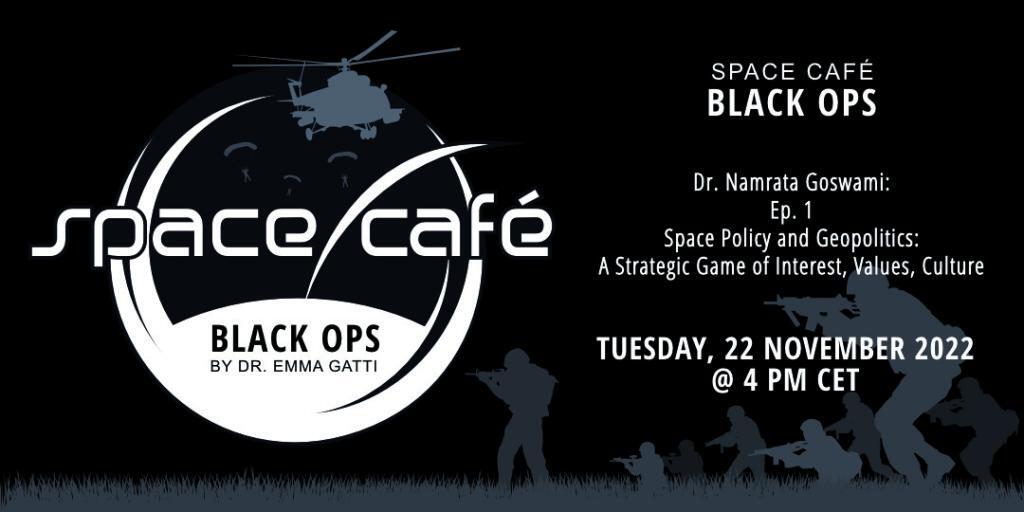 This Space Café Black Ops will feature Namrata Goswami , an independent scholar on space policy and Great Power Politics, in conversation with Dr. Emma Gatti, Editor in Chief of SpaceWatch.Global.
Ep. 1: Space Policy and Geopolitics: A Strategic Game of Interest, Values, Culture
Black Ops returns with a mini-series fully dedicated to the Indo-Pacific and global geopolitical Space picture. Protagonist of the mini-series will be Dr. Namrata Goswami, an independent scholar on space policy and Great Power Politics. Dr. Goswami is a Faculty Associate at the Thunderbird School of Global Management, Arizona State University. She is as  well a consultant for Space Fund Intelligence and a guest lecturer at the seminar on "India Today: Economics, Politics, Innovation & Sustainability". She is also the author of the book "Scramble for the Skies: The Great Power Competition to Control the Resources of Outer Space".
In the first episode of six, Namrata will discuss with SpaceWatch.Global Editor in Chief Emma Gatti the values, interests and cultures of the U.S., China, Russia, India, Japan, so to explain their investment in space capabilities. The discussion will offer in-depth assessment of why space in the 21st century, why it is important for national security, geopolitical manoeuvring, prestige, power, and influence in the international system.
The audience will have an opportunity to ask questions.
This Space Café "Black Ops by Dr. Emma Gatti" will be conducted in English on the 22nd of November 2022 at 4 pm CET.
SpaceWatch.Globalis a Europe-based digital magazine and portal for those interested in space and the far-reaching impact of the space sector.
Reserve your place today.