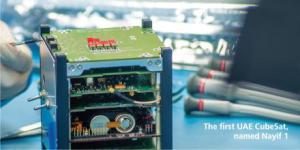 The small satellite is enjoying what has been a re-birth over the past five years and this is culminating in a plethora of new constellations and technological developments that could literally see the satellite industry move onto a new trajectory. Helen Jameson, SpaceWatch Middle East Senior Contributing Editor, takes a closer look at the small satellite revolution, the challenges, and the opportunities.
The space and satellite industry is a great one to write about at the moment, because it is literally at a crucial point in its development. It's fascinating. We are looking at progress that seemed pretty much out of reach just ten years ago – re-usable rocket technology, laser communications between satellites, broadband constellations that will bring connectivity to the untapped billions, a race to the Moon, and applications that are emerging just about everywhere. I feel lucky to be covering this industry because it is on fire at the moment.
One of the most notable developments that is occurring in the satellite industry is the rise and rise of the small satellite. No longer are these satellites associated solely with the scientific and academic community; they are now becoming part of the mainstream satellite industry. The last five years have seen huge strides forward in small satellite technology and capabilities. Today, satellites with a mass of less than 500kg can achieve missions that were previously the preserve of heavier satellites. Developments in sensor technology and the fact that small satellites can meet the requirements of a wide range of applications, including broadband communications, mean that operators can now have much smaller satellites built, bringing down manufacturing and launch costs and opening up the opportunity to refresh technology regularly, thus enabling them to remain more competitive.
Euroconsult released a very interesting report in early July that highlights the opportunity in the small satellite market. Prospects for the Small Satellite Market forecasts significant expansion in terms of capabilities and demand. It says: "Over 6,200 smallsats are expected to be launched over the next ten years, a substantial augmentation over that of the previous decade (several mega constellations are now included within the scope of this report). The smallsat market from 2017-2026 will be driven by the roll-out of multiple constellations accounting for more than 70% of this total, mainly for commercial operators." These are staggering statistics.
Maxime Puteaux, Senior Consultant at Euroconsult and the report's editor, remarked that: "The total market value of these smallsats could reach $30.1 billion in the next ten years, up from $8.9 billion over the previous decade."
The big demand is coming from large communications satellite constellations that are currently on the table with the likes of SpaceX, OneWeb, LeoSat, Sky and Space Global, et al. There is also an influx of units expected from the Earth Observation community from Planet, BlackSky Global, Spire, and DigitalGlobe's Legion and Scout constellations.
The small satellite frenzy is most certainly a global one with commercial, scientific, and governmental players looking to get a piece of the action. Development of small satellites are not only useful to commercial players, but are also being used to build knowledge with respect to indigenous space programmes.
An excellent example of this can be found in the Nayif-1 cubesat programme, developed by the Mohammed Bin Rashid Space Centre (MBRSC) and launched in February this year. This was the first UAE CubeSat and was designed within the framework of partnership between MBRSC, Innovative Solutions in Space, NL, and the American University of Sharjah. The team consisted of seven engineering students in their last year of study, majoring in different disciplines such as electrical engineering, mechanical engineering, and computer engineering. The students operate Nayif-1 from the ground station which is located at the American University of Sharjah.
The Nayif-1 project is of high importance to the UAE as it provides extensive knowledge and experience in the basics of satellite manufacturing and facilitates capacity building within the country. The CubeSat is contributing towards the objectives set out by the UAE's vision of developing a knowledge-based economy, and it will further advance the science and technology sector in the country.
So, this is a phenomenon in full swing and with many benefits, but there are challenges that exist and it is important that the industry recognises these and how they may impact upon the deployment of such programmes and constellations.
Not so easy access?
The first is the well-documented launch bottleneck. There are hundreds, soon to be thousands, of small satellites that are slated for launch in the near future. These satellites are cheaper to launch but what about that critical access to space?
Increased manufacture of small satellites is one thing, but catering for the projected burgeoning demand to orbit them is another. Although there are new launchers entering the market on a regular basis, there still remains the fact that many are still in development and will require 13 or 14 successful launches under their belt to be considered proven. This will not happen overnight. As highlighted by Euroconsult, launch services are expected to generate $14.5 billion, a 76% increase over the previous decade. Medium and heavy launchers will provide cost-effective rideshare options and the new, smaller launchers will offer dedicated rides but this will ultimately cost the operator more.
Adding to the celestial junk yard
I was lucky enough to attend the World Space Risk Forum (WSRF) earlier this year, when Mark Dickinson of the Space Data Association had delivered a keynote on the valuable work that the organisation does to help to address the issue of identifying what is up there, who owns it, and where it is. He put out a rallying call to operators and other interested parties to sign up and help to mitigate the chances of collisions in space. This is something that every operator should be thinking about – and with the impending slew of small satellites soon to be launched into LEO, it needs to be addressed….now.
Dr. Moriba K. Jah, Director of ASTRIA and Associate Professor of Aerospace Engineering in the Engineering Mechanics Department at the University of Texas at Austin, also delivered a keynote that made the whole room think. Dr. Jah told it as it was. He talked about the huge concentration of debris in LEO – nuts, bolts, satellite remnants, launcher bodies – you name it. The average of 2-3 items that burn up in the atmosphere every day will not clean up the space debris mess that currently exists and with the planned constellations, we are simply adding to this junkyard. We need to know what is up there and where and how it might affect assets in space. Dr. Jah is pushing for a scientifically and empirically informed taxonomy for man-made space objects that will allow classification of their relative risks according to their orbits, size, and ability to manoeuvre. As Air Traffic Control has 'custody' over aircraft movements, a form of space traffic control should have 'custody' over spacecraft. However, in order to achieve this, there must be investment in the underlying science that will be required to understand it. He urged the space industry to think about the fact that any debris removal method must be sustainable – otherwise there is little point.
I think it's important to note that whilst this is a hugely exciting time for the space industry, with great technological developments being made, we need to respect the space environment and efforts such as the ones that Dr. Jah and others promote, as well as satellite servicing and life extension programmes, which are utterly critical for our survival and long-term future in space. The small satellite community is a global one and humanity continues to launch a huge amount of objects into space without regard for the space environment. That's why the international space community needs to act now on space debris.
So, we are embarking on a new space era. New capabilities, new technology, new launch vehicles, and new small satellite constellations. Things are evolving yet again – and it is amazing how this industry consistently re-invents itself. Ultimately, we don't know how this will turn out – who will make it and who won't; but small satellites are re-invigorating the space business and producing new possibilities, new applications, and new ways in which space can help humanity. Now that cannot be a bad thing, but operators also need to be mindful of the space environment that we must take care of – our next frontier.
Original published at: https://spacewatch.global/2017/08/spacewatch-middle-east-oped-small-satellites-boundless-technological-opportunity-looming-disaster-space-environment/