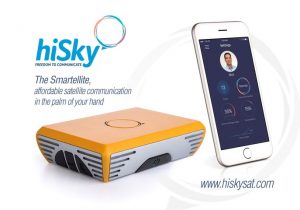 Israel's hiSky, the pioneer in affordable voice and data satellite communications, announced today the introduction of its revolutionary Ka-band based solution, a small portable device combining its state of the art technology. Smartellite is a Ka-Band Satellite Terminal for Affordable MSS and IoT Applications and a lightweight terminal that provides satellite-based voice and data services to anyone, anywhere
Smartellite, uses advanced phased array beam steering antennas to automatically locate satellites at any location. A proprietary built-in modem designed for low-to-medium bit rates allows for the fast acquisition of satellite signals while the advanced network management system is designed to provide voice and low bit-rate data communication services. hiSky already has several registered patents for this solution.
Utilizing low cost Ka HTS capacity to create a WiFi hotspot, Smartellite eliminates the need for users to connect satellite calls via high-cost traditional satellite providers. Satellite Services have been available since the 1990's, but calls have remained costly—averaging between $1 and $5 a minute—limiting satellite communication to emergency situations or only when absolutely necessary.

The integration of these technologies together with the next generation of satellites, enables hiSky to achieve an efficient, and robust mobile satellite network for voice and low bit-rate data services even when on the go.
"hiSky addresses the need to communicate freely at affordable rates, rather than through traditional satellite solutions that are limited to emergencies or urgent need," says Shahar Kravitz, CEO of hiSky. "We believe that our technology will also meet the demands of the growing IoT market. We are currently teaming up with prominent satellite operators and automotive manufacturers to offer customers uninterrupted connectivity worldwide, for a fraction of the price of other satellite solutions currently on the market."
Original published at: https://spacewatch.global/2017/02/hisky-introduces-smartellite/