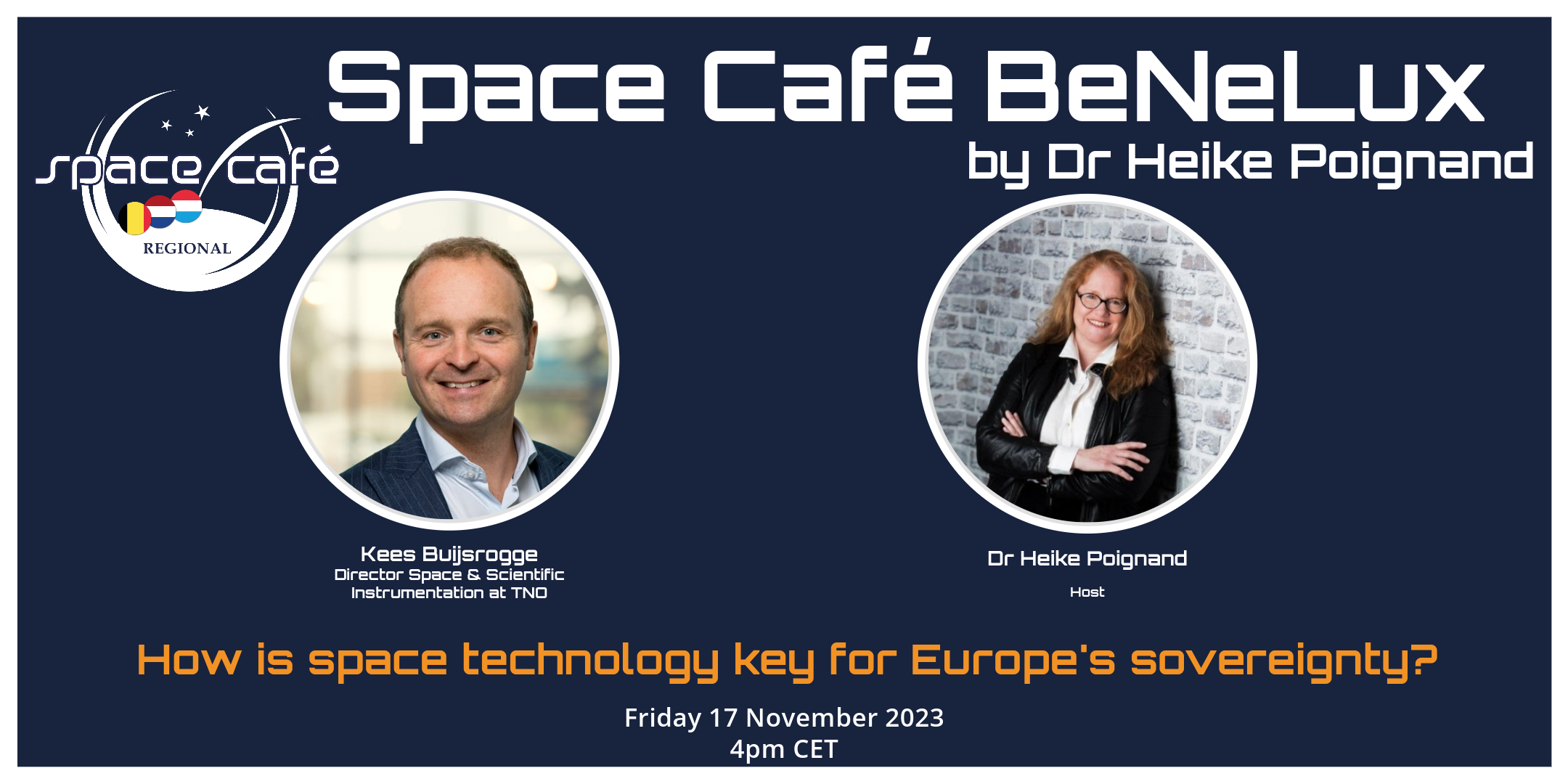 This Space Café BeNeLux will feature Kees Buijsrogge, Director Space & Scientific Instrumentation at TNO in conversation with Dr Heike Poignand, Founder of C43B – Consulting for Business Building Blocks – and a friend of SpaceWatch.Global.
How is space technology key for Europe's sovereignty?
During our Space Café BeNeLux Kees and Heike will not only discuss the relevance of Space for Europe's sovereignty, but also what an important role space plays our daily lives and what it means in terms of innovation, sustainability and competitiveness for a small country like The Netherlands. This Space Café BeNeLux will take place on the 17th of November at 4 pm CET.
Kees is responsible for TNO's long-term roadmap for Space & Scientific Instrumentation focusing on satellite communication earth observation and astronomy. He works on aligning the space portfolio with the needs of TNO's governmental, institutional and business stakeholders. Ensuring TNO addresses societal challenges and improves Dutch competitiveness. This includes advising governments on policy decisions ranging from air pollution and the environment to our understanding of the universe to effective broadband communication. Our aim is always to boost the Dutch commercial control within international value chains.
TNO connects people and knowledge to create innovations that boost the competitive strength of industry and the well-being of society. Together with our partners, we focus on the societal challenges of a safe, healthy, sustainable and digital society. In addition to his role at TNO, Kees is a Board Member at SpaceNed and Space Expo Noordwijk and holds a Supervisory Board position at TU Delft Space Institute. He also holds a Supervisory Board member at Princess Máxima Center for Pediatric Oncology.
Dr. Heike Poignand graduated from the RWTH Aachen and holds an engineering degree in mechanical engineering and a PhD in Laser technology from the Fraunhofer ILT in Aachen, Germany. She brings expertise from 25 years of experience in Sales and Business Development with global market leaders in high-tech domains developing future secure services in the domain of satellite communication and Space Resources Utilization, needing a sound technical understanding to succeed.
She has been growing into the Space Business with Luxemburg since its ESA membership in 2006. Heike served as Member in various institutional boards and recently as founding member and VP of the EURO2MOON association. As "mother of QUARTZ" Heike set up one of the first big European satellite QKD-projects with SES and its partners throughout Europe, the corner stone of a European Quantum Communication Infrastructure. During her time with ispace Europe she acquired specific knowledge regarding customers' need around Space Resources Utilisation and cis-lunar economy and was subject matter expert for lunar comms.
In May 2022 Heike founded her own company C43B – Consulting for Business Building blocks to offer her expertise in those domains bridging Business and Technology. She is successfully working with several companies, start-ups and institutions, is start-up coach and an EIC expert, evaluating EIC Accelerator proposals, offering equity investment and grant funding to innovative deep-tech SMEs/Start-ups.
The audience will have an opportunity to ask questions in dialogue with Kees Buijsrogge.
SpaceWatch.Global is a Europe-based digital magazine and portal for those interested in space and the far-reaching impact of the space sector.
This Space Café BeNeLux will be conducted in English.