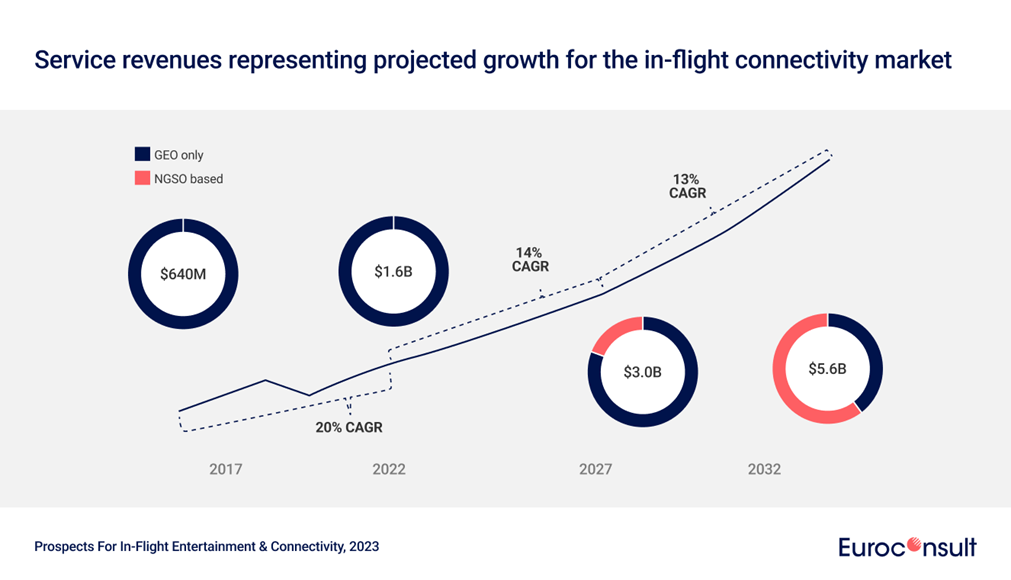 Ibadan, 4 October 2023. – Euroconsult's Prospects for In-Flight Entertainment & Connectivity report focusing on In-Flight Connectivity (IFC) for air travel has highlighted a second consecutive year of strong growth. This is because over 36,000 commercial and business aviation aircraft now feature onboard internet access. The study's 11th edition predicts this number to grow steadily over the coming years to almost double by 2032, as part of an overall market that could see service revenues reach as high as $3.4bn.
The report is the result of compiling a decade of forecasting data and five years of historical results, producing extensive databases with hundreds of data points, covering the number of connected aircraft per segment and per technology.
It contains details on global trends and forecasts across both geographical regions and technologies, featuring key metrics of IFC systems and service provision with a focus on areas such as passenger options, Smart Plane concepts, the value-chain of the IFC ecosystem (including company profiles of network operators, service providers and equipment manufacturers) and detailed analysis of the commercial and business aviation markets.
Overall, the Euroconsult report anticipates a positive trend up to 2032 due to rising passenger demand and increased bandwidth availability. Although emerging non-governmental service organizations will reduce costs, the increased demand facilitated by the increased supply will likely offset the decreasing capacity prices. All of this has led the consulting firm to predict satellite operator revenues to grow from $350m last year to $1.6bn by 2032.