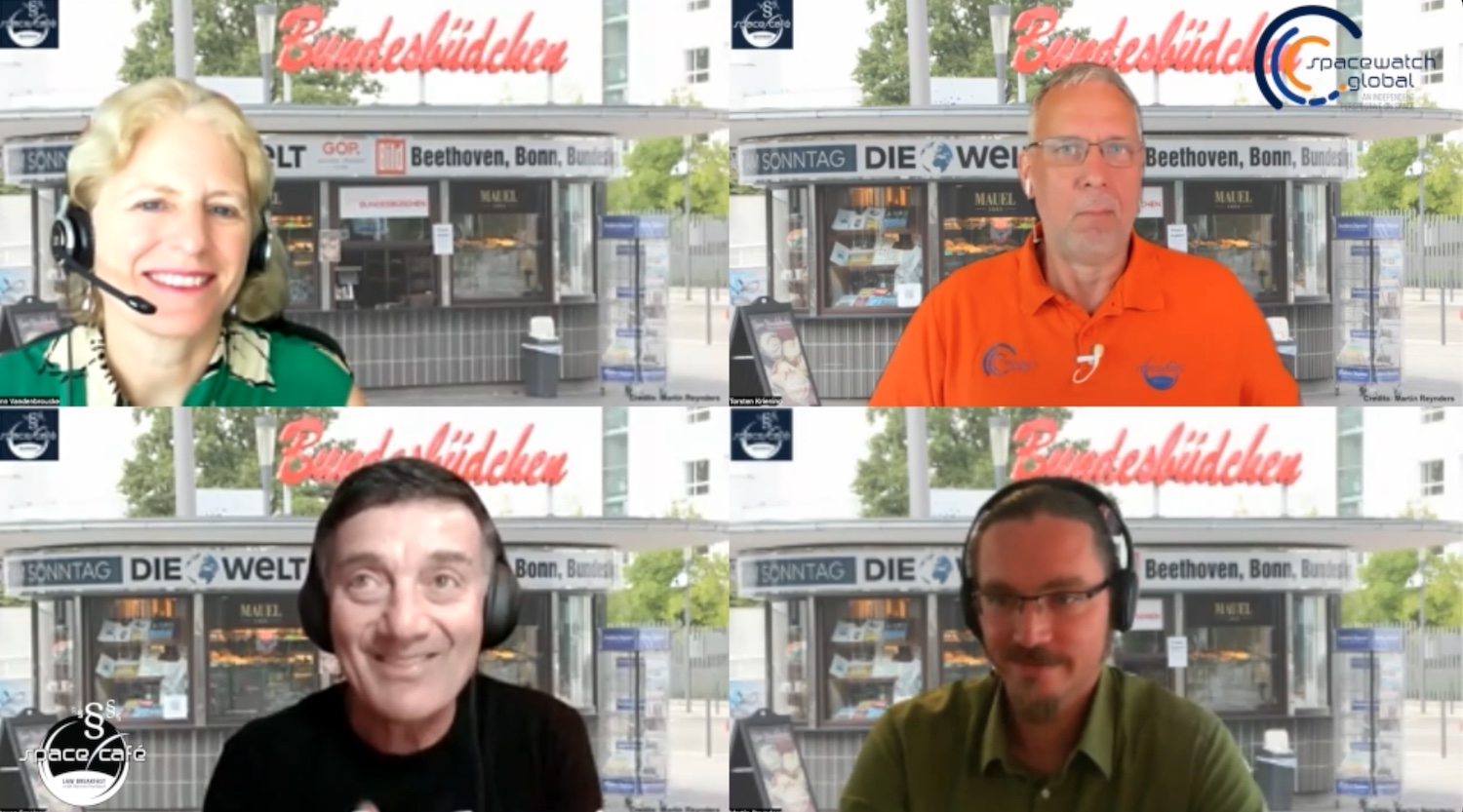 In the latest (15th) "Space Café Law Breakfast with Steven Freeland", host Steven Freeland, Emeritus Professor at Western Sydney University, and Professorial Fellow at Bond University, and Co-Host Torsten Kriening, SpaceWatch.Global's Publisher, welcomed Ann Vandenbroucke and Martin Reynders to a fantastic breakfast discussion at the famous Bundesbüdchen in Bonn.
Over breakfast treats (and some coffee), they discussed important issues relating to current and future space activities and the challenges and opportunities raised by constantly developing space technology. These included questions such as:
In what ways (if at all) do we need to augment the existing international legal framework for space to take account of the constantly changing technological paradigms?
How do we explain the evolving space technological ecosystem to those non-technical people whose responsibility it will be to govern and regulate it?
What is the best process for encouraging and promoting capacity building among emerging space-faring countries and their non-governmental entities?
What is the impact of increasing AI and similar technology for the management of space activities, including accountability?
Ann and Martin, who both have a wealth of experience in space activities from an institutional, operational and regulatory perspective, also provided their 'one word' to describe the wonders of space/space law – a tradition for all guests at the Space Café Law Breakfasts.
We hope that you enjoyed this discussion (see video below) and will already note in your diary to join us for the next regular Space Café "Law Breakfast with Steven Freeland" on 25 January 2024 (9.30am CEST) with guests Ann-Sophie Martin and Duncan Blake – it promises to be another great discussion.
But before then, Steven and Torsten will present an 'end of year special' in December recapping 3 years of wonderful Space Café Law Breakfasts – details to follow soon …….
In the meantime, please let us know if there is a particular event or issue that you want our expert panels to help to 'demystify'. We are always interested in your views and suggestions.
We really hope you will join us for breakfast again soon.
This 15th Space Café "Law Breakfast with Steven Freeland" was held on 21 September 2023.
SpaceWatch.Global is a Europe-digital magazine and portal for those interested in space and the far-reaching impact of the space sector.
Here is the video: