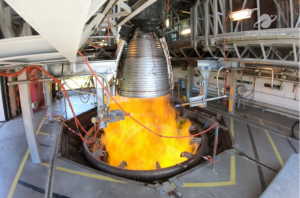 London, 7 September 2023.- ESA's new Ariane 6 launch vehicle, consisting of its upper and core stage, completed another test ESA announced on the 6th of September. Its core stage Vulcain 2.1 engine was ignited on the launch page, and fired for four seconds before switching off and its liquid oxygen and liquid hydrogen fuels were drained to their separate underground tanks. These tests are the continuation of an earlier test on the 18th of July.
The test was conducted by CNES and ArianeGroup under the leadership of ESA. It demonstrated that the system can be kept safe in the event of a launch abort, which was demonstrated during the 18th of July test. Fuelling and ignition was the latest test to validate that the rocket, launch pad, protective gantry, and all related fluid and electrical connections worked properly as a combined system. 
Flight models, including the rocket that will make the inaugural flight, are being manufactured and assembled under the responsibility of the ArianeGroup. The solid rocket boosters for the first flight are being assembled in Kourou, French Guiana. 
There will be a longer-duration firing of the Vulcain 2.1 engine lasting 470 seconds to simulate an actual flight coming soon. This will be done on the launch pad. 
"We have a fantastic team working on this programme. We can all feel it – we are taking the final steps towards entering into the Ariane 6 era," said Toni Tolker-Nielsen, ESA Director of Space Transportation. 
Ariane 6 will succeed Ariane 5 as Europe's heavy-lift launch system. It is tailored to the needs of multiple payloads e.g. orbiting satellite constellations.