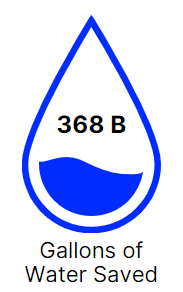 London, 21 September 2023.- ASTERRA, a US-based company that uses patented algorithms and AI to detect leaks, assess pipes and locate moisture, announced on the 19th of September that they have discovered their 100,000th leak. 
ASTERRA has grown using their satellite-based leak detection technology into a satellite-based infrastructure intelligence company that serves hundreds of customers across different industries. The company is not only detecting leaks, but also reshaping infrastructure management through satellite-based actionable intelligence. 
The leak was detected using ASTERRA's Recover, the satellite leak detection solution. Recover is facilitated by the user through ASTERRA's SaaS platform: EO Discover. The platform also provides insights to fulfilling environmental regulations, both ESG and SDG. 
Pennsylvania American Water is a partner and client of ASTERRA and were the finders of ASTERRA's 100,000th leak.
"In honouring this milestone, we recognize global and local efforts coming together in a powerful way," said Elly Perets, chief executive officer of ASTERRA. "On one level, we celebrate with Pennsylvania American Water because another community is saving water, energy and money by using our technology and solutions. But by locating 100,000 leaks — found across more than 64 countries on behalf of over 600 clients — we are also celebrating how the world is adopting ASTERRA's solutions as we tackle water insecurity and climate change head on."
ASTERRA's leak detection technology -the company claims- has saved 368 billion gallons of water, reduced by 235,520 metric tons carbon emissions, and saved 920,000 MWH of energy.