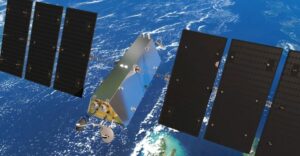 London, 18.08.2023.- Telesat, a Canadian satellite communications company, announced on the 11th of August that MDA Ltd., a space technology company, will build 198 advanced satellites for the Telesat Lightspeed Low Earth Orbit (LEO) program. Telesat also announced that Telesat Lightspeed is now fully funded through global service delivery, by the company's own equity contribution, certain vendor funding, and aggregate funding commitments from its Canadian federal and provincial government partners. 
The re-designed Telesat network aims to take advantage of key technology advances, including MDA's digital beamforming array antennas and integrated regenerative processor to increase network efficiency. The technology advances mean that each satellite will be slightly smaller than the satellites Telesat was previously considering using whilst still maintaining the required levels of service performance, resiliency and overall usable capacity in the network. The new satellites are more cost-effective, resulting in anticipated total capital cost savings for the program of approximately US$2 billion compared to prior estimates. 
"I'm incredibly proud of the Telesat team for their innovative work to further optimise our Telesat Lightspeed design," said Dan Goldberg, President and CEO of Telesat. "MDA is a world class satellite prime contractor with an impressive track record and a number of recent high profile, strategic space programs announced, and it is a privilege to be working side-by-side with them on the flagship, game-changing Telesat Lightspeed constellation."
The capital investment for the Telesat program is approximately US$3.5 billion and includes 198 satellites, satellite launch vehicles, a global ground network of landing stations and operations centres, business and operations support systems, and expenditures to support the further development of a portfolio of user terminals.
With the signing of the contract, the Telesat Lightspeed program has begun, with satellite launches scheduled to commence in mid-2026, and services scheduled to begin in late 2027.