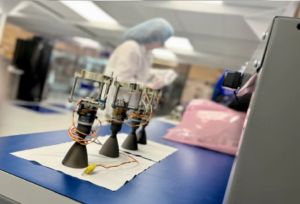 London, 9 August 2023.- Benchmark Space Systems announced on the 8th of August that it has raised $33 million in Series B funding and moved its headquarters to facilities with four times the manufacturing capacity. The funding round will enable the company to move forward with new innovations and accelerate its strategic transition from research and development to production to meet the growing demand for its non-toxic propulsion systems. The 40,000 square foot Vermont-based facility features full end-to-end delivery capability from engineering through test and integration, including hot fire chambers, vibration tables, thermal vacuum chambers and lean production flow lines housed in 7 clean-room environments. Benchmark is currently fulfilling contracts for dozens of its new Xantus metal plasma thrusters (MPTs), with some on the verge of playing a key role in upcoming in-space servicing, assembly, and manufacturing (ISAM) satellite docking demonstration missions. 
"Many of our mission partners are scaling to build dozens or hundreds of satellites per year," said Ryan McDevitt, Benchmark's CEO. "With this move we will be able to leverage multiple dedicated assembly lines and develop a mature supply chain to consistently produce quality systems at scale, including our Xantus metal plasma thruster and Halcyon Avant and Starling Ardent chemical propulsion systems."
Benchmark combines the electric metal plasma thrusters with its high-test peroxide (HTP)-powered chemical propulsion systems to provide satellite and mission operators with a non-toxic hybrid solution. The company is producing hundreds of its 2N Lynx bi-propellant thrusters this year to meet increasing demand for low-Earth orbit (LEO) and cislunar missions. Benchmark's operations leadership team estimates production will reach up to one-thousand thrusters per year on the new manufacturing lines.