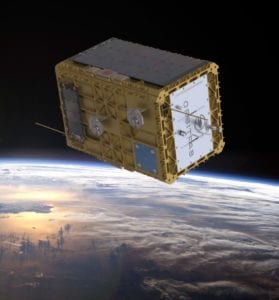 Paris, 26 February 2021. – Greener space: The European Space Agency (ESA) tests a 'green' satellite thruster as an alternative to today's hydrazine-based engines, the agency said.
Hydrazine is the most common propellant employed by thrusters aboard satellites today and is typically used to manoeuvre satellites into their final geostationary orbits. It is highly energetic but also toxic and corrosive, dangerous to handle and store.
ESA, therefore, initiated the Green Liquid Apogee Engine for a so-called Future Spacecraft project, GRACE, to evaluate more environmentally friendly thrusters. The most effective bipropellant combination it found uses high test peroxide (HTP) as oxidizer – "a much purer version of the same chemical used to bleach hair, which is split into oxygen and water steam using a catalyst", ESA said.
The project was supported and conducted through ESA's Polish Industry Incentive and the Polish Institute of Aviation.
At the same time, Orbit Fab, the San Francisco-based start-up that is building gas stations for spacecraft in orbit, announced that it is also using high test peroxide (HTP) for what it calls "the first fuel available for delivery in space".
Orbit Fab partners with Benchmark Space Systems to use its Halcyon thrusters, the firm said.
HTP is a "green propellant with a significant history of use", Orbit Fab said. "It can be used as a capable monopropellant or as a high-performance oxidizer in bi-propellant thrusters. It has the added advantage, long term, of being able to be produced from in-situ materials on mars, the moon, and at asteroids."