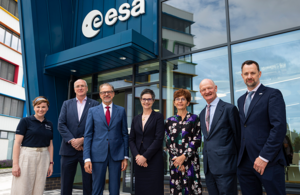 Ibadan, 12 July 2023. – Secretary of State for Science, Innovation, and Technology, Chloe Smith, has announced £20 million in funding from the UK Space Agency to support the development of future telecommunications technologies and aerial connectivity projects. The project would subsequently be onboard drones or high-altitude platforms to provide wireless coverage. Companies can consequently bid for the funding to develop innovative aerial services and technologies that will support a range of industries.
The Technology Secretary unveiled the support during a speech at the opening of the European Space Agency's new conference center at the Harwell Space Cluster in Oxfordshire. Furthermore, the projects could include developing connectivity for aerial platforms with hybrid capabilities that can seamlessly switch between satellite and terrestrial networks. Likewise, it could be traffic management for innovative vehicles such as electric vertical take-off and landing (eVTOL) aircraft or 'flying taxis.'
Speaking on the funding support, Smith said, "The Government's £20 million investment will further strengthen the UK's fast-growing satellite communications industry, which already contributes more than £10 billion to our economy and supports over 26,000 jobs. It will improve our health and security, too, and support our plan to level up every part of the UK."
Similarly, Dr. Paul Bate, UKSA Chief Executive, added, "UK Space Agency funding for the facility demonstrates our ongoing commitment to working closely with the European Space Agency to catalyze investment, deliver new missions and capabilities, and champion space across the UK – showing once again that space is a team sport."
The funding announced today is in addition to the £50 million ARTES funding announced in January to back a wide range of projects, such as developing new satellite constellations, the ground systems needed to access them, or whole end-to-end systems delivering new services to customers.