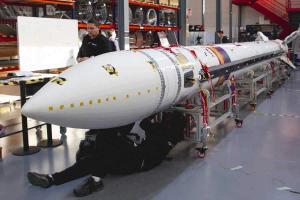 London, 22 June 2023.- PLD Space, a Spanish company that designs, develops, and manufactures micro launchers, has signed a Memorandum of Understanding with Arianespace, a European space transportation operator. 
Through this Memorandum both companies are committing to develop joint commercial offers to increase the commercial capacity of access to space through the micro launcher service offer developed by PLD Space. The agreement enables PLD Space to offer its small satellite launch service to Arianespace customer base, enhancing European access to space.
"The Premium Service proposed by PLD Space together with the experienced Arianespace will provide to the customer optimized launch solutions such as to address the highly demanded deployment of small constellations or combination of multiple small satellites," said Pablo Gallego Sanmiguel, Senior Vice President, Sales & Customers of PLD Space. "Also, this provides the possibility to have a back-up solution highly demanded by our customers. The combination of PLD Space and Arianespace launch family provide to the SmallSat community the assurance to get to any orbit at any time."  
PLD Space is planning on launching the first experimental flight MIURA 1 SN1 sometime in June after postponing due to weather conditions. 
MIURA 1 is the first private micro launcher developed in Europe. It has been fully designed by PLD Space as a technology demonstrator with recovery and reusability requirements that only three companies have achieved. This demonstration will mark a turning point for the development of the MIURA 5 micro-satellite launcher, as the MIURA 1 mission will validate much of the design and technology serving at the basis for the development of the MIURA 5 orbital launcher. The MIURA 5 launcher is expected to launch in 2025, followed by a target of 10 to 12 launchers per year by the end of this decade.