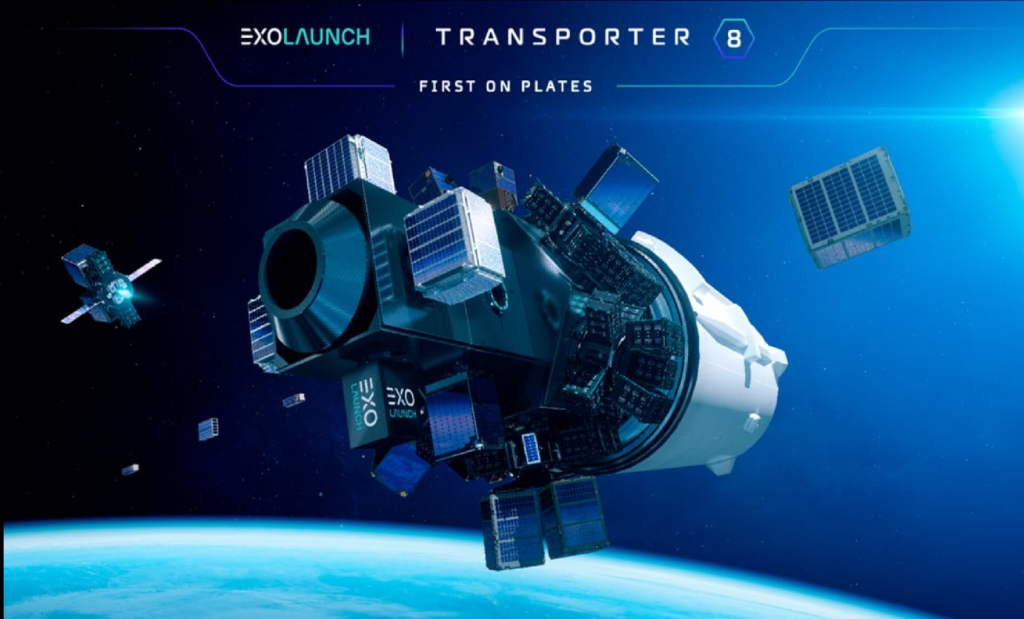 London, 14 June 2023.- Exolaunch, a global provider of mission management and integration services, announced on the 14th of June the successful deployment of 32 satellites on SpaceX's Transporter-8 dedicated rideshare mission. This brings Exolaunch to a total of 323 satellites launched. The rideshare mission lifted-off on a SpaceX Falcon 9 on the 12th of June at 2:35 pm PT from Vandenberg Space Force Base in California, USA. 
On its fourth mission this year, Exolaunch manifested a roster of eleven international customers, headlining long-standing customers Spire, ICEYE, Satellogic, Kongsberg NanoAvionics, Satlantis, Swarm Technologies, and TU Stuttgart. Exolaunch has also welcomed new customers Aerosapcelab, Muon Space, Turion Space, and Azista BST Aerospace. The Transporter-8 satellites have a range of applications, including Earth observation, methane emissions monitoring, scientific experiments, and more.
Transporter-8 is the first launch to utilise SpaceX's modular Rideshare Plates to accommodate the payloads. All 12 microsatellites and 20 CubeSats achieved successful separation into their target orbit. 
Under its Multi-Launch Agreements with SpaceX, Exolaunch provided its proprietary EXOpod/EXOpod Nova deployers and CarboNIX separation systems as well as end-to-end mission management for all customers manifested on the new Rideshare Plates. The company also provided Satellogic with deployment hardware, integration, and deployment services.
"Our whole team is incredibly proud to celebrate the achievement of launching our 300th satellite on Transporter-8! We are very grateful for our customers' continued trust and for the confidence the industry places in our systems and capabilities," said Jeanne Allarie, VP Launch at Exolaunch. "We look forward to making space ever more accessible and executing even larger missions."
In April, Exolaunch marked an industry-first by deploying the first 16U smallsat in GEO, shortly after breaking its internal record for the largest manifest with the Transporter-6 mission in January.