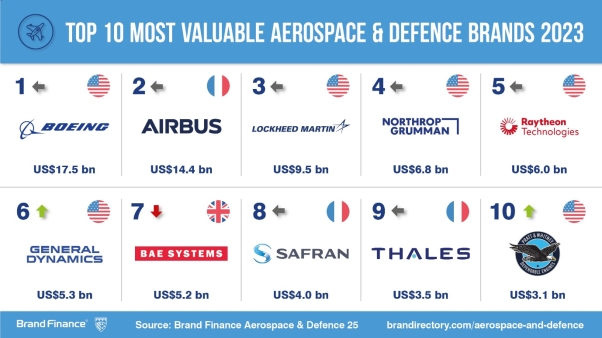 Ibadan, 16 March 2023. – According to Brand Finance's annual valuation, Boeing (brand value up 13% to US$17.5 billion) has remained the most valuable aerospace and defense brand in 2023. This is as demand for commercial aircraft increased following a return to global travel, post-Covid-19, has sustained Boeing's brand value growth, which is 4% higher than its main competitor Airbus (brand value up 9% to US$14.4 billion). However, Boeing's brand value remains 23% lower than its pre-pandemic value.
Offering more insight, Savio D'Souza, Valuation Director, Brand Finance, commented: "Demand for Boeing's products continues to go up post-pandemic, bolstered by some important partnerships. This included Air India's selection of up to 290 Boeing jets to expand its future fleet and the US Air Force awarding several high-value contracts to Boeing."
In addition to calculating brand value, Brand Finance also determines the relative strength of brands through a balanced scorecard of metrics evaluating marketing investment, stakeholder equity, and business performance. Through this metric, the valuation company also asserted that Airbus (brand value up 9% to US$14.4 billion) has overtaken rival Boeing to become the strongest Aerospace & Defense brand. The Company enjoyed a Brand Strength Index Score of 82 out of 100, up 3.4 points year-on-year, with a corresponding AAA- rating. The French brand is also the second most valuable brand in the ranking.
In addition, Boeing and Airbus had the two highest Sustainability Perception Values of US$450 million and US$399 million apiece. While both brands' position at the top of the Sustainability Perceptions Value table is not an assessment of their overall sustainability performance, it indicates how much brand value the brands have tied up in sustainability perception.