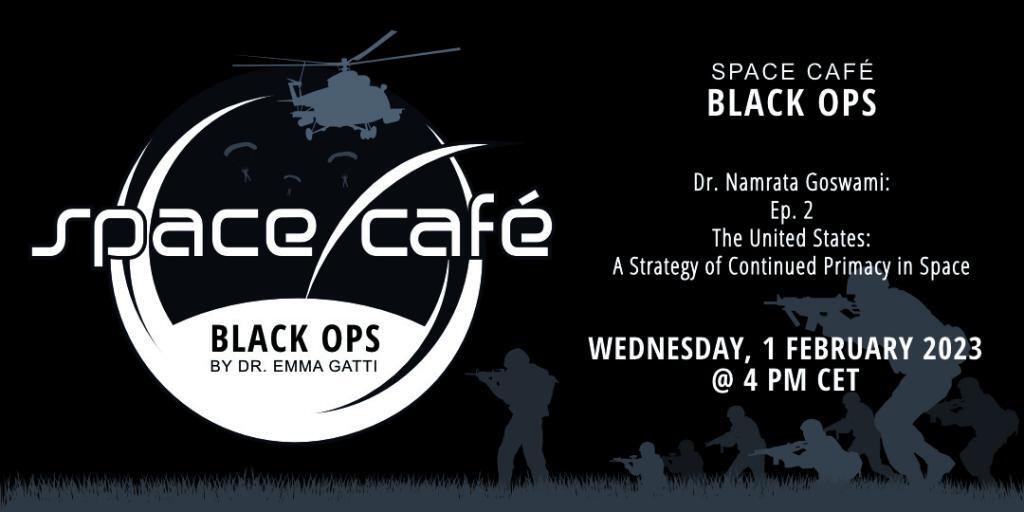 This Space Café Black Ops will feature Namrata Goswami , an independent scholar on space policy and Great Power Politics, in conversation with Dr. Emma Gatti, Editor in Chief of SpaceWatch.Global.
Ep. 2: The United States: A Strategy of Continued Primacy in Space
Black Ops returns with a mini-series fully dedicated to the Indo-Pacific and global geopolitical Space picture. Protagonist of the mini-series will be Dr. Namrata Goswami, an independent scholar on space policy and Great Power Politics. Dr. Goswami is a Faculty Associate at the Thunderbird School of Global Management, Arizona State University. She is also a consultant for Space Fund Intelligence and a guest lecturer at the seminar on "India Today: Economics, Politics, Innovation & Sustainability". She is the author of the book "Scramble for the Skies: The Great Power Competition to Control the Resources of Outer Space".
In the second episode, Namrata and Emma will discuss the values, interests and space culture of the United States of America. Together, they will explore the historical steps that brought the U.S. to be the most powerful spacefaring nation in the world, it's current space strategy, it's interest in the Moon and cislunar activities, and the challenges it will face to maintain its supremacy in a world of shifting powers and democratic struggle.
The audience will have an opportunity to ask questions in conversation with Dr. Namrata Goswami.
SpaceWatch.Global is a Europe-based digital magazine and portal for those interested in space and the far-reaching impact of the space sector.
This Space Café "Black Ops by Dr. Emma Gatti" will be conducted in English on the 1st of February 2023 at 4pm CET.
Reserve your place today.