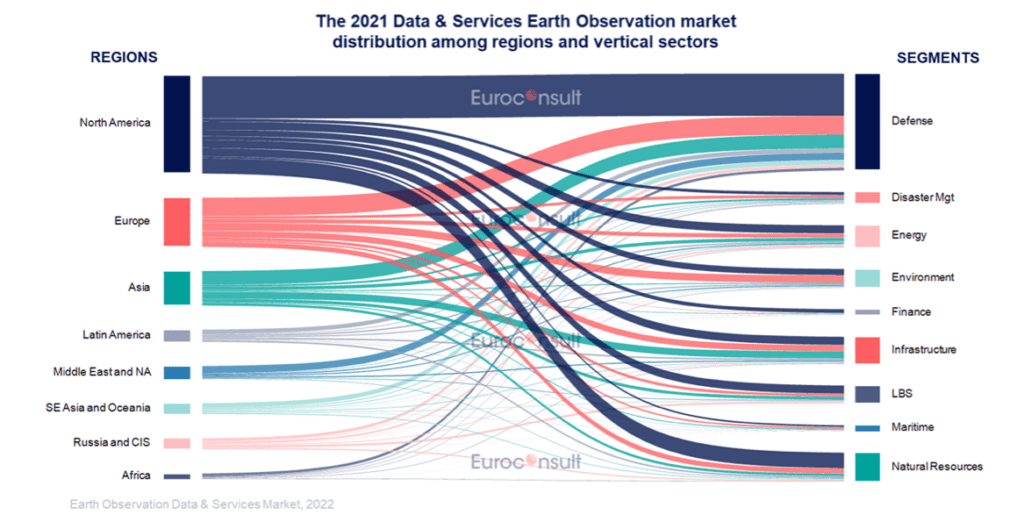 Edinburgh / Paris / Washington D.C. / Montreal / Yokohama / Sydney, 19 December 2022. –  Consulting firm Euroconsult's latest 'Earth Observation Data & Services Market' report on the EO satellite-based downstream and upstream data and service markets predicts a steady growth in the next decade. The analysis also shows an increasing demand predicted for more expensive datasets below 30 cm resolution, 3D modelling and near-real-time global mapping, the firm said.
The EO (Earth Observation) data and services markets are set to reach a combined US $7.9 billion by 2031. The services market is anticipated to grow at a 6% CAGR (Compound Annual Growth Rate) over the next decade.
"The service ecosystem was previously widely fragmented but is becoming more and more structured, with a number of mergers and acquisitions or strategic partnerships forming between satellite operators and new tech companies," Alexis Conte, Senior Consultant at Euroconsult and editor of the report stated.
Although private funding plays an important role in supporting projects, Government budgets remain the primarily funds for EO. In addition, there are new countries joining the satellite manufacturing industry, taking part in the launch of over 3,500 EO satellites in the next decade. These launches are predicted to generate nearly US $98 billion in revenues.