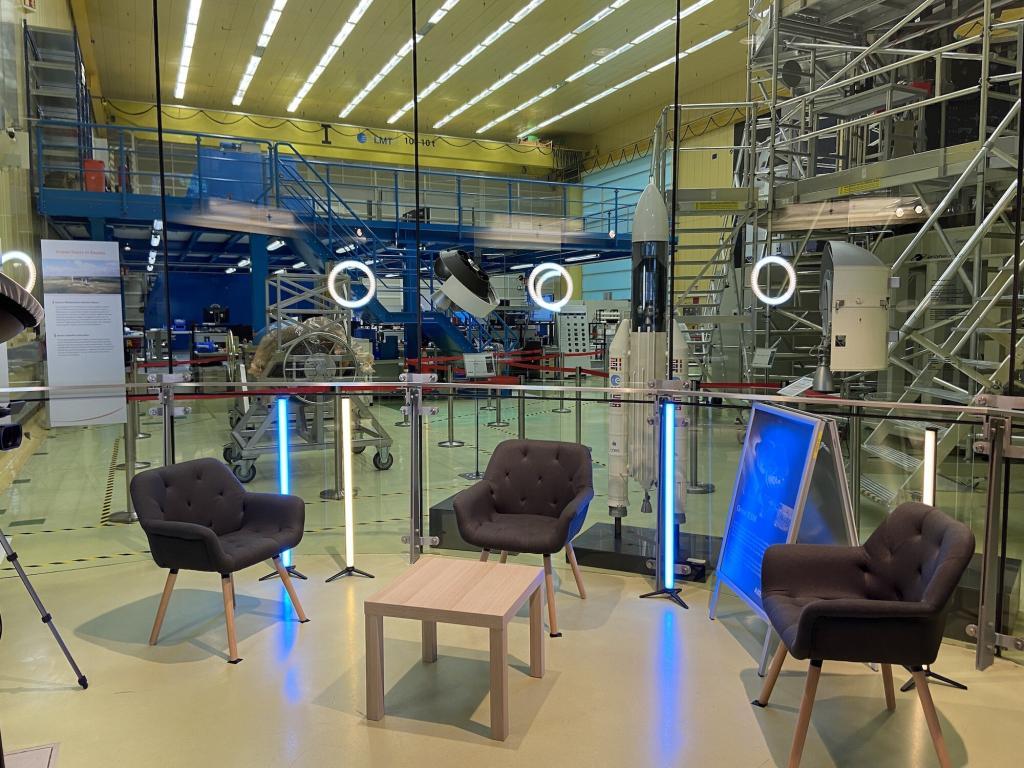 by Viktoria Urban
Our Space Café "33 minutes live from Airbus Bremen with Laura Todd and Kai Bergemann" about our path to the Moon (Orion), the European service module, (ESM), and Artemis took place on Tuesday, 15th November at the Airbus Integration Facility in Bremen.
GlobalScot fellow Laura Todd is Vice President (VP) Space Exploration – Future Programmes at Airbus Defence and Space. Before starting her current role last year, she served as VP Strategy, Portfolio Management & Transformation for three years and VP Digital and Business Transformation – Customer Services for two years prior to that. She holds a Masters degree in Aerospace, Aeronautical and Astronautical Engineering from the University of Liverpool.
Kai Bergemann is the Deputy Programme Manager for Orion, ESM (European Service Module) and the responsible Project Manager for the Orion ESM-3 and following modules at Airbus in Bremen. Kai holds a MSc degree in Aerospace Engineering from the Technical University of Munich. He started his career at Airbus in 2008 as a Technical Product Manager.
He also held positions in Ottobrunn and Lampoldshausen before moving the Human Spaceflight Programmes in Bremen in 2013 where he has held various management positions before taking on his current responsibilities in 2021.
The webtalk starts off by discussing the challenges missions pose on the company. Kai says that despite simulation tests, seeing real data for the first time during an actual flight is key. Laura states that space exploration business as a whole has to put aside the fact whether their customers are institutions or private customers and focus on the user experience instead. She says that currently they have a stronger institutional funding. Every innovation and technological advancement in the history of the space industry starts with governments and institutions, however, it then moves to public or private funding. She feels that the industry is at this transitional period now.
Airbus does not see itself as just a manufacturer, it has a vision and a mission. Part of the company's goal is to take advantage of what the teams learned from technologies and the end to end value chain and to make that accessible for smaller industries and startups, as well as the whole of humanity. 
"We pioneer sustainable aerospace for a safe united world, that is our purpose," Laura said.
Kai then goes to explain what visions he has for future space exploration following the 10-year development of the ESM. He would like to see humans flown to space on a future module developed by the company. Laura thinks there is a true possibility for Airbus to go to Mars but it has to be done in a structured way. The team will have to look at the capabilities and the technologies and how they can evolve these.
Kai sees two major engineering challenges. The first of these is propulsion, i.e. how to get to Mars in a reasonable timeframe. The second major challenge is radiation. How do all the electronics survive if the harsh environment? How is more computing power, requiring smaller chips that are more prone to radiation, possible? 
"The main challenge is to acknowledge that space exploration is becoming more and more normal… I think the more normal this is now becoming, the more we need to ask ourselves which set of rules that we have given ourselves over the last couple of decades, can now be broken in order to simplify the whole thing, in order to shorten the time into space, and to bring our development cycles down," he adds.
Laura says it is important to show that the upcoming space projects are not merely a question of vanity but that the technology can help humanity. Kai adds that most of the spin offs coming from space happen by coincidence, like semiconductors.
To listen to the Space Café WebTalk's insights, you can watch the full program here:
Viktoria Urban, Senior Editor at SpaceWatch.Global: After graduating as a Journalist from Edinburgh Napier University, I am now doing an Astronomy and Planetary Science degree at The Open University (Scotland) which has enhanced my already existing love and enthusiasm for space. I am also a member of and a volunteer for several societies both in Hungary and in the UK and write online content on space for multiple companies as well. I hope my science communication will encourage many to find a job in the space sector, whatever their background and highlight important issues to ensure a sustainable space environment for future generations.