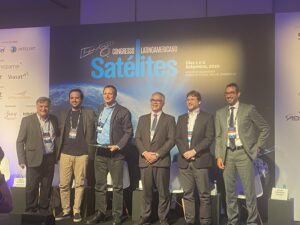 by Guilherme Tupinambá
On September 1st and 2nd of 2022, the Latin American Satellite Congress (LATSAT) took place in Rio de Janeiro, Brazil. Aerospace professionals from different parts of Brazil and the world came to participate in the two day event. Hundreds of people gathered to listen to talks about services and new technologies from the satellite market, the new space race, and the prospects for aerospace science in Latin America. The event was organized by Glasberg Communications, promoted by Teletime News and Tela Viva, and hosted by Samuel Possebon, telecommunications expert and Teletime's editorial director.
Brazilian aerospace history is very recent. For some experts, it's still in its embryonic state. Although the aircraft manufacturing and commercial flights market is big and internationally recognized, the country has very few space mission records – specifically, one Brazilian astronaut sent to outer space (Marcos Pontes) and one fully Brazilian manufactured satellite (Amazônia-1). This scenario can be related to Brazil's huge territory (8,516 million square kilometers), where the presence of a good aviation system would allow easier connections and transport through different areas of the country (especially remote ones, inside forests, where automobiles can't reach). However, social inequality has always been Brazil's biggest problem, with millions of people below the poverty line and hundreds of thousands living in starvation. With more pressing issues to solve, the satellite market for many years remained static, in a utopian place – a project for a fully developed futuristic country.
But that doesn't mean that there was never interest from the public and private sectors in aerospace science – it means that the subsidy provided wasn't enough to make this market reach its full potential. During LATSAT's first panel talk ("The New Space Race: Innovations and Concerns"), André Gomes, head of services and global trends from Cullen Int., highlighted that, over the decades, the Brazilian government had an important role as a client, interested in the sat-tech usages for military, corporative, connectivity, and telecommunication purposes. He also referred to some regulatory challenges Brazil has to face: "The licensing requires some effort from the new 'players' because the government and the regulatory agencies aren't used to making risk analysis of thousands of satellites operating together.  There is however a set of regulations to avoid signal interferences and to allow the coexistence of different satellites. Such licensing requirements in a sort of way have been an obstacle for the development of the commercial services." – said Gomes, implying that in this public-private partnership, both sides need to know how to work together. He also shared his concerns about the sustainability of the local space economy in the long run, when a huge demand (many 'players' and competitive companies) won't match a small supply (less technology and infrastructure available).
With more pressing issues to solve, the satellite market for many years remained static, in a utopian place – a project for a fully developed futuristic country.
AMAZÔNIA-1 AND THE MISSING SPACE CENTER
While some people may question Gomes' concerns, the launch of Brazil's first satellite was a concrete example of the limits of the Brazilian space market. The Amazônia-1 is a photo recognition geostationary satellite whose main goal is to monitor the Amazonian rainforest, Brazil's agricultural lands, coasts, water reservoirs, and other forests within the country. Developed by INPE (National Institute of Space Research) in partnership with AEB (Brazilian Space Agency), it was launched on February the 28th 2021. Although Brazil has two aerospace bases, Amazônia-1 was launched from the Satish Dhawan Space Center, in India. This is because both bases are somehow not suited for satellite launch rockets. The first one, Centro de Lançamento da Barreira do Inferno, is the country's first launch center, founded in 1965 and controlled by the Brazilian Air Force. It deals strictly with rockets and it's located in the city of Parnamirim, in the state of 'Rio Grande do Norte' (RN). Barreira do Inferno is also a research facility with many previous works with NASA and ESA. But over the years, the city of Natal, RN's capital, started to grow and come closer to Parnamirim, which is just a few kilometers away. Eventually, this civil expansion limited Barreira do Inferno's possibilities, because it no longer had a sufficiently large no-fly zone that could allow the launch of a rocket.
Although Brazil has two aerospace bases, Amazônia-1 was launched from the Satish Dhawan Space Center, in India.
On the other hand, Brazil's second launch center, Centro de Lançamento de Alcântara (located in the city of Alcântara, in the state of Maranhão), is now considered the country's main space base, and for many experts, it could become one the world's top rockets launch facilities due to its unique geographical conditions (closer to the equator, very limited air traffic due to the remote area, stable and predictable weather, no seismic movements). Despite all these natural advances, Alcântara still doesn't have the necessary infrastructure and the technology to launch scientific and military cargo into outer space. That's why the Brazilian government had to negotiate with India to make the launch happen there. Alcântara is potentially the globe's best space center, but it's still far away from reaching its maximum capability.
"IT'S ONLY ROCKET SCIENCE"
That's what 20 years old entrepreneur Lucas Modesto heard several times during the conference. In his opinion, the reason why there's a lack of substantial subsidy is due to a disbelief in the industry. A new 'player' in the market, Modesto is the co-founder of NovaTech Space, a Brazilian startup focused on the development of low-cost space technology that aims at developing the country's space infrastructure. During an interview, he specified that his company's biggest challenge is the skepticism people face towards the Brazilian aerospace sector. But he also shares an optimistic perspective about the future, mainly because of the changes that he sees happening. For example, FINEP (Financier of Studies and Projects), a government company connected with the Science and Technology Ministry, recently released several public funding dedicated to aerospace companies. "Thank God we have these opportunities provided by the government. All companies are space companies, but some just don't know it yet" Modesto said.
SPACE, BRAZIL, AND THE BIGGEST FOREST ON THE PLANET
The concept of "remote areas" in Brazil is on another scale compared to Europe. Being Brazil the host of 60% of the biggest rainforest on the planet, bringing information and education to remote areas such as forests or rural zones is a large-scale challenge. According to the Brazilian Institute of Geography and Statistics ('IBGE'), nearly 32.4 million Brazilians live outside urban areas, and fiber-optic cables have a high cost and need to face physical obstacles to provide services to some locations. Thus, a larger satellite coverage could help solve the problem at a more sustainable cost. Hopefully, with the development of the market, these technologies will become cheaper and more accessible.
The concept of "remote areas" in Brazil is on another scale compared to Europe.
The issue at the moment is that most companies' efforts focus on urban areas because rural areas have few inhabitants and are thus not as profitable as the big cities. But for Carlos Pedalino, VP of Engineering at ReOrbit and guest at LATSAT, the solution lies in the hands of the government. "Internet connection is a right for every human being. Private companies may not be interested in providing internet connectivity to remote communities, so this is when the government should pitch in. An option could be a Public-Private Partnership (PPP), which is an interesting funding model for those projects involving the building of large public infrastructure and new telecommunications systems" – affirmed the Argentinian engineer, who is interested in selling micro-GEO telecommunications satellites manufactured by ReOrbit to Brazil.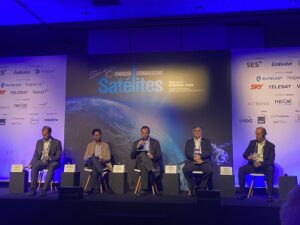 BRAZIL'S ELECTIONS AND THEIR IMPLICATION FOR SPACE
Brazil has enormous potential. It could become one of the world's biggest satellite markets and have one of the best aerospace sectors. As LATSAT 2022 shows, many national companies are working on this, alongside government agencies. It's not a matter of 'if', but a matter of 'when'. In October of this year, Brazil will have its presidential elections, where two candidates, Jair Bolsonaro (current president and right-wing candidate) and Lula da Silva (former president and left-wing candidate), will be running for the chair.
Bolsonaro aims to promote partnerships with private companies to stimulate scientific production, with the subsidy being provided largely by private initiatives but maintaining public funding such as the FINEP. If re-elected, one of his campaign promises was to provide access to the 5G signal to every Brazilian city within the next four years. Meanwhile, da Silva's government project is called "The Brazilian Reconstruction and Transformation Program", which aims to combine high-quality public education, basic and technological scientific research, and social inclusion. For that project to thrive, da Silva's campaign promises include the strengthening of SNCTI (Nation System of Science, Technology, and Innovation) and a big process of digital transformation in Brazil, enlarging the internet's accessibility and its presence to every man, woman, and children of the country.
During LATSAT 2022, the elections weren't mentioned – probably a strategy to avoid polemic and politicize the event. However, that can also be related to a more objective take of the Brazilian aerospace sector on the political situation: it might well be that the elections won't influence the development of the domain as much. Regardless, the speakers and guests of LATSAT were optimistic about the Brazilian market, but they were also aware of the challenges that need to be faced. The odds are in the player's favor. Still, it is a tough game, because, in the end, it's not only rocket science.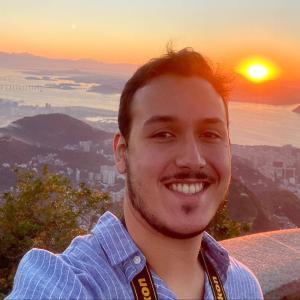 Guilherme Tupinambá is a Brazilian journalist and musician. Bachelor in Social Communication/Journalism from PUC-Rio, one of the country's finest universities, Guilherme has job experience with television and radio as reporter and with digital marketing as junior analyst. Working as an independent journalist, his biggest interests are in articles about culture, politics and environmental issues. In his new project with Space Watch Global, Guilherme is studying the satellite universe to better know how the market works, inside and outside Brazil. Aside from his professional life in Communications, he's an artist, playing his music and promoting concerts and events in Rio de Janeiro, his hometown.