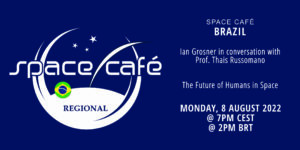 This Space Café Brazil will feature Prof. Thais Russomano, a Brazilian Space Scientist, Researcher and Medical Doctor, in conversation with Ian Grosner, Correspondent of SpaceWatch.Global for Brazil.
The Future of Humans in Space.
Prof Thais Russomano has 30+ yr of experience in Aerospace Med, Space Phys & Digital Health. She is an MD with an MSc in Aerospace Med/USA, a PhD in Space Phys-KCL/UK, and was a researcher for 3 yr at DLR/Germany. Founded and coordinated for 18 yr the MicroG-PUCRS, BR, is academically linked to several Universities (i.e, KCL-UK, Univ of Lisbon-PT, UFCSPA-BR). She has authored books, book chapters and numerous papers, is an Academician of the IAASM and IAA (Board of Trustees 2019-2023 & Publication & Communication Committee (2021-2023). She is a Board Member of companies, reviewer for journals, and holds patents in Space Sciences and Biomedical Engineering. Thais acted as a voluntary Mentor for Space4Women, a UN initiative (UNOOSA, 2020-2021) and is InnovaSpace UK co-founder & CEO.
The conversation will address human space exploration, historical facts, projects, ground simulations, differences between astronauts and space tourists, the medical challenges of missions and future plans for a permanent presence of humans in outer space.
The audience will have an opportunity to ask questions in dialogue with Prof. Thais Russomano.
SpaceWatch.Global is a Europe-based digital magazine and portal for those interested in space and the far-reaching impact of the space sector.
This Space Café Brazil will be conducted in Portuguese on 8th August 2022 at 7 pm CEST.
Reserve your place today.