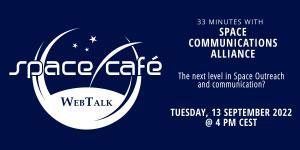 This Space Café WebTalk will feature the founders of the Space Communications Alliance, in conversation with Torsten Kriening, publisher of SpaceWatch.Global.
The next level in Space Outreach and Space Communications?
The mission of Space Communications Alliance (SCA) is to connect space innovators with customers and partners through integrated public relations, content marketing, and social media campaigns that give tangible results. What is most important is that SCA is the world's first dedicated, fully integrated marketing communications network for the sector. So that companies, public organizations and NGOs will be able to run either global or local campaigns/projects thanks to the one partner, SCA, that brings together an international and interdisciplinary team of experts who have been at the forefront of the space sector for decades.
Curious? Hear more from the founders:
SpaceWatch.Global is a Europe-based digital magazine and portal for those interested in space and the far-reaching impact of the space sector.
This Space Café WebTalk will be conducted in English on 13 September at 4 pm CEST.
Reserve your place today.