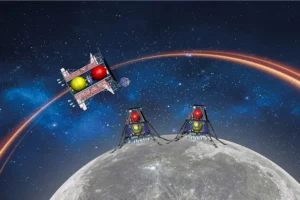 Farnborough / Los Altos, California/Haifa, 7 September 2022. – Space-resilient computing infrastructure company Ramon.Space, and vision-based sensor suite provider Lulav Space, will partner to provide an advanced navigation solution for the Beresheet 2 lunar missions scheduled for 2025. 
The Beresheet 2 lunar missions are developed by Israeli space development organisation, SpaceIL. The aim is to double land on the Moon and stay in lunar orbit for five years conducting science education activities. 
The cooperation will benefit from Lulav Space's implementation of its vision-based landing sensor algorithms on Ramon.Space's platform. The latter is a radiation-hardened computing platform with an RC64, a machine learning, DSP processor. The technology enables simultaneous localization and mapping algorithms to provide position and velocity to the lander navigation system. This allows for hazard detection during lunar descent to ensure safe landing.  
In general, modular navigation systems needed for lunar landings require cameras, complex computer vision algorithms, and graphical simulators. The combination of Ramon.Space and Lulav Space's navigation solutions will deliver a durable, cost-effective system. In addition, the duo will manage to cut down on size, mass, and power use without decreasing performance, Ramon.Space said.