This Space Café Israel will feature Dr. Ana Heller, astrophysicist, nano satellite expert, and educator, in conversation with Meidad Pariente, correspondent of SpaceWatch.Global for Israel.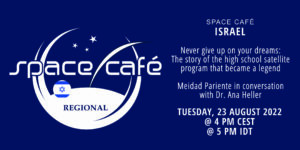 Never give up on your dreams – The story of the high school nano-satellite program that became a legend, with Dr. Ana Heller
During our Space Café Israel Ana and Meidad will talk about women in STEM, her unparallel drive to peruse her dreams, and how a young girl from a small town in Argentina became the "mother" of the Israeli space community.
With more than 25 years of hands-on experience, Dr. Heller is a fierce promoter of science and space technologies for the youth by leading space projects in Europa and South America and simultaneously implementing outreach strategies of international collaboration. Heller is the founder of the first space youth laboratory of Israel in Herzliya city, and the scientist director of the first generation of Israel student Nano satellites Duchifat-1, Duchifat-2, followed later by Duchifat-3. In 2020, Heller initiated "Youth Space", a jointly Israel-Spain STEM Nano-satellite program under the support of the foreign ministry of Israel. As the scientist director of the program, Heller is leading the "EspYSat" Nano-satellite project in the community of Madrid, and currently expanding horizons to new projects in Barcelona schools. In the international field, Heller frequently appears in TV and radio interviews, give on-line lectures for far away poor schools in South America, acts as a member of the Advisory Committee for Adriatic Space Agency, and is the Israel scientists' residents' coordinator to the Argentine Embassy in Israel. Heller holds a PhD. in Astrophysics from the School of Physics and Astronomy, and a MSc. in Geophysics and Planetary Sciences from the Department of Geophysics and Planetary Sciences, both degrees from Tel Aviv University (TAU) in Israel.
Meidad Pariente is an entrepreneur and innovator, with more than 25 years of experience in managing technologies. He is the CTO and Co-founder of SPACECIALIST, and CIO and Co-Founder of SKY AND SPACE Company (Nanosatellite Communication Network company). Before he was the CTO and Co-founder of Effective Space Solutions (Now Astroscale IL). Meidad advised space insurance companies, and led several multidisciplinary programs for ImageSat International, Elbit space division, The Technion and Rafael. He was the technical lead and AIT manager for "Duchifat-1", the first Israeli nanosatellite. In the past he worked at MBT-Space as a satellite operator, systems engineer, Chief systems engineer, and Chief architect for several communication and earth observation satellites. During his carrier at Israel Aerospace Industries, Meidad won seven "business improvement awards" and two "outstanding performance" awards. Meidad is also an experienced director and board member.
The audience will have an opportunity to ask questions in dialogue with Dr. Ana Heller.
SpaceWatch.Global is a Europe-based digital magazine and portal for those interested in space and the far-reaching impact of the space sector.
This Space Café Israel will be conducted in English on 23rd August 2022 at 4 pm CEST.
Reserve your place today.