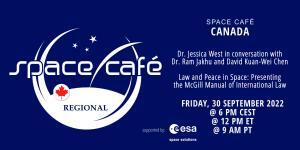 This episode of Space Café Canada will feature Dr. Ram Jakhu and David Kuan-Wei Chen of McGill's Centre for Air and Space Law, which spearheaded the newly released McGill Manual, the world's first to clarify international law applicable to military uses of outer space, in conversation with Dr. Jessica West, Senior Researcher at Project Ploughshares and a friend of SpaceWatch.Global.

Law and Peace in Space: Presenting the McGill Manual of International Law
The prospect of possible armed conflict in outer space looms large over international politics, with possibly devastating consequences around the world. But it doesn't have to.
This episode of Space Café Canada will explore Volume I of the newly released McGill Manual of International Law Applicable to Military Activities in Outer Space (McGill Manual). Inspired by a future where all space activities are conducted in accordance with the international rules-based order for the benefit of everyone, the McGill Manual clarifies international law that applies during both peacetime and in times of tension that pose a challenge to peace. Crafted over six years, this first volume of the Manual contains 52 rules agreed upon by consensus by experts from around the world.
Ongoing political and technical developments in outer space have raised the stakes for the continued peaceful use of outer space. Join us for a detailed discussion of how the process and rules adopted by the McGill Manual can help to maintain peace and the questions for the future that remain to be answered.
SpaceWatch.Global is a Europe-based digital magazine and portal for those interested in space and the far-reaching impact of the space sector.
This Space Café WebTalk will be conducted in English on 30 September 2022 at 6 pm CEST.
We like to thank ESA Space Solutions for their continuous support.
Reserve your place today.