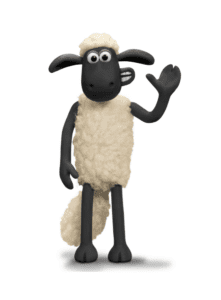 Edinburgh, 3 August 2022. – Dr David Parker, ESA's Director for Human and Robotic Exploration, has named the "specially trained woolly astronaut", Shaun the Sheep, Aardman's family favourite TV series, as the first astronaut on the Artemis I mission to the Moon.
"This is an exciting time for Shaun and for us at ESA. We're woolly very happy that he's been selected for the mission and we understand that, although it might be a small step for a human, it's a giant leap for lambkind," said Dr Parker.
Shaun will launch aboard he first unmanned flight of NASA's Orion spacecraft as part of the Artemis I mission. The spacecraft features an ESA European Service Module, which will go around the Moon and back. The Space Launch System will deploy Shaun from the Kennedy Space Center in Florida, USA into a translunar orbit. The spacecraft will use lunar gravity to propel itself 70 000 km beyond the Moon.
Of course, Shaun has already begun his astronaut training program and spacecraft familiarisation. His training was documented and will be presented in a series of blog posts leading up to launch, the agency said. The stories will feature Shaun's flight on the special Airbus 'Zero G' A310 aircraft recreating the weightless conditions of space. 'A Shaun the Sheep Movie: Farmageddon', was released in 2019, offering insight into the rigorous training that all astronauts, including him, have to undertake.
Aardman is happy that Shaun will get to celebrate the 15th anniversary of his first TV series by going to space.