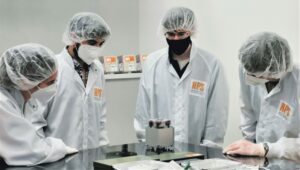 Edinburgh / Paris/ Munich, 4 August 2022. – HPS (High Performance Space Structure Systems) is to start series production and distribution of its ADEO M, the new model of ADEO de-orbit sail, in Germany and Romania.
ADEO M will focus on medium satellites with weights between 100-700 kg, on orbits up to 900 km. These specifications make it ideal for servicing satellite constellations.
Additionally, HPS will further develop ADEO N, which is suitable for use with nano-satellites. ADEO N and ADEO L (for large satellites), have already been on the market for over a year now. The company's ADEO M will address the NewSpace market.
HPS says that there is a suitable ADEO for each satellite on low Earth orbit. The company also claims that its technology is able to accelerate de-orbiting by a factor of about 20. Satellite operators get a free forecast after feeding their spacecraft data into the "ADEO deorbit timer". HPS is already taking orders for ADEO M, to harmonize planning and production processes.