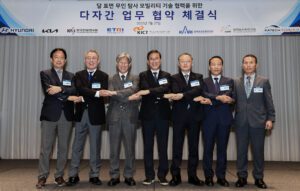 Edinburgh / Seoul, 4 August 2022. – Hyundai Motor and Kia signed joint research agreements with six Korean research institutes and formed a consultative body to develop mobility solutions to explore the surface of the Moon, the companies said. The firms are planning to expand the scope of human movement beyond Earth as part of their vision for robotics and metamobility. 
The six institutes include the Korea Atomic Energy Research Institute (KAERI), the Korea Aerospace Research Institute (KARI), and the Korea Astronomy and Space Science Institute (KASI). The other three are the Korea Automotive Technology Institute (KATECH), the Korea Institute of Civil Engineering and Building Technology (KICT), and the Electronics and Telecommunications Research Institute (ETRI).
The collaboration is expected to start this month with Hyundai and Kia's internal consultative body defining the concept and reviewing strategies. The companies' Robotics Lab will be in charge of robot development while also collaborating on software and hardware design. They will work together on interpretation, space environment response technology, and lunar exploration equipment as well.
The multilateral research agreement will enhance Moon exploration mobility, including exploration equipment, software for mobility operation and remote communication functionalities.